CSL shares rise as profit forecasts boosted
Shares in biotechnology giant CSL jumped in early trade as chief executive Paul Perreault revealed boosted profit forecasts at the company's annual general meeting and outlined its large R&D pipeline.
Shareholders in the $140 billion biotech were told net profit after tax was expected to be between $2.17 billion and $2.26 billion for the next financial year, a growth of between 3 and 8 per cent. These numbers tightened the previous forecasts in the upwards direction, with predictions in August putting the low end of growth at zero per cent.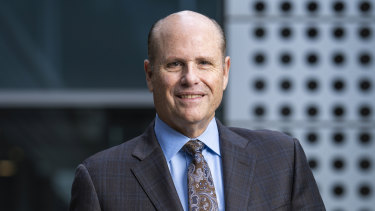 CSL shares were sitting 1.7 per cent higher just before 11.30am AEDT, at $303.36.
The blood plasma giant confirmed investor expectations that it was continuing to struggle to collect plasma, the product at the core of CSL's key products, in a post-pandemic environment. Mr Perreault said restrictions were expected to "add to the overall cost of collection" in coming months, though the business was throwing significant resources towards mitigating this.
CSL's portfolio of COVID-19 treatments were also in the spotlight, with the company welcoming the chief executive of coronavirus vaccine developer AstraZeneca, Pascal Soriot, to the company's board.
CSL chairman Brian McNamee calmed investor concerns about competitive tensions between AstraZeneca and CSL given Mr Soriot's appointment, saying the companies had minimal overlap and were collaborating, instead of competing, to roll out the Oxford/AstraZeneca COVID-19 vaccine in Australia.
"We looked at the question of overlap between AstraZeneca and CSL, and they are very very minor," he said.
CSL's vast research pipeline includes work on COVID vaccines as well as other treatments including a hyperimmune product for coronavirus patients and a range of new drugs under development including heart attack treatment CSL-112.
The company confirmed on Wednesday that all these projects were pushing its R&D spend higher.
"Our R&D response to COVID, as well as new R&D initiatives, will put upwards pressure on R&D expense, but still within the 10-11 per cent revenue envelope as previously guided," Mr Perreault said.
More to come
Source: Thanks smh.com