Virgin boss Paul Scurrah exit imminent after Bain takeover
Virgin Australia boss Paul Scurrah is expected to announce his departure from the airline within days following the company's takeover by American private equity firm Bain Capital.
Mr Scurrah's imminent exit has heightened fears that Bain will renege on earlier assurances and strip Virgin back to a budget airline with a limited network, leaving Qantas with a monopoly over full-service air travel in Australia.
Several well-placed sources, who spoke on the condition of anonymity to discuss confidential matters, said Mr Scurrah and Bain were negotiating his exit on Wednesday afternoon.
A spokesman for Bain, which bought Virgin in a fierce auction after it collapsed into voluntary administration in April owing $6.8 billion, declined to comment on Mr Scurrah's future on Wednesday.
'"This [Mr Scurrah's exit] has been widely speculated but the ongoing denials from Bain have until now shut it down," said one company source.
Another said company insiders had expected Bain to replace all of Virgin's senior executives and management, with former Jetstar boss Jayne Hrdlicka – a former Bain executive who advised the firm on its bid for Virgin – expected to play a key role.
"We think they're going down a budget path, and Paul doesn't have budget carrier experience" the senior management source said.
Mr Scurrah successfully talked Bain around to backing his view, after the private equity firm's local boss Mike Murphy earlier said he envisioned Virgin as a "hybrid" airline operating somewhere between Qantas and Jetstar.
Mr Scurrah's ongoing involvement at the airline and vision for it to remain a full-service carrier with international operations was critical for Bain to win the support of Virgin's 9000 workers over and vote in favour of its takeover offer last month.
The Transport Workers Union said it had suspended negotiations with Bain over a new enterprise bargaining agreement, and believed Bain was reneging on its commitment to maximise jobs, maintain a full-capacity network, full-service offering and to fly internationally.
"The ink is not yet dry on the sale of Virgin and it appears that private equity firm Bain Capital are behaving as we feared: ripping out the heart of Virgin and reneging on promises to the Australian people," TWU national secretary Michael Kaine said in a statement.
"If the plan and scope of the airline as outlined in August by Bain Capital has already been scrapped then this is a serious betrayal that must be addressed."
A suite of senior executives have quietly left Virgin in recent weeks following the approval of Bain's takeover, but their departures have not been announced publicly. That includes chief strategy officer Michael Jones, head of corporate sale Anne Elliot and general manager of alliances and international sales Phil Squires.
One of the company insiders said that before the all-important creditors vote last month, "Bain were saying all the nice things about keeping as much of the workforce as possible".
"But now, being a private equity firm, they are likely to cut as much as can," they said.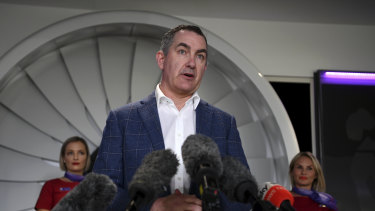 Source: Thanks smh.com