MyDeal joins the e-commerce IPO bandwagon
Gandel family-backed online marketplace MyDeal is joining the rush of e-commerce listings on the ASX, looking to make the most of the online shopping boom sparked by the COVID-19 pandemic.
MyDeal, which specialises in household goods such as furniture and homewares, is aiming to raise $40 million through the initial public offering this week. Valued at around $259 million, the company posted revenue of $15.7 million in the last financial year.
Company founder and chief executive Sean Senvirtne said the burst of activity in the online shopping sector offered the best opportunity for MyDeal to take its next big step.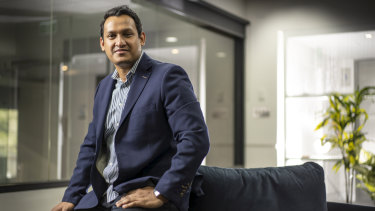 "The COVID-19 (pandemic) has led to a significant shift to online, there are a lot of new customers coming and shopping online, there's no doubt about it."
"The IPO window it's a quick window sometimes they open, sometimes they close due to a lot of the external circumstances… COVID-19 sort of shut that gate (initially) but now it has opened back up for a lot of the online businesses specifically," he said.
Australian consumers spent around $39.2 billion on online retail in the twelve months to August, around 11.5 pe cent of the total retail trade estimate, according to the latest NAB online retail sales index. With bricks and mortar stores shuttered by lockdowns, listed online retailers like Kogan.com and Temple & Webster have seen a significant bump in sales during the pandemic.
Mr Senvirtne predicted the next shift will be when online shoppers become more focused on price.
"We believe in the long term, ecommerce is really about price, it's really about value," he said. "Right now people are not across it they are just excited to be buying online, but as they get smarter they'll know how to right click, do a comparison and get the same product at a better price."
He is also confident that consumers will stick with online shopping even after the pandemic is contained and restrictions are lifted.
"There is definitely a shift in retail and what's fascinating is that we still see our sales holding up in states that are no longer in lockdown."
He said sales in Western Australia, New Zealand and New South Wales continued to increase for MyDeal which had 555,000 active customers in July after customers discovered the benefits of shopping online.
Mr Senvirtne started MyDeal in 2011 and had since then picked up a $5.1 million investment from Tony Gandel, the son of billionaire property developer and rich lister John Gandel.
Mr Senvirtne will retain a 49 per cent stake in MyDeal after the IPO and the company has attracted ecommerce veterans Paul Greenberg and Dean Ramler to its team ahead of the IPO.
Mr Greenberg, who founded DealsDirect, is chairman and Mr Ramler, who founded Milan Direct, is overseeing MyDeal's private label business.
Mr Greenberg said Mr Senvirtne and his team were "hard working but humble and hungry" and MyDeal had a strong business model.
"It's a great model because MyDeal holds the money until the customer is happy so it's almost like an escrow model really," he said. "It's a consistent customer experience [and] a scaleable platform."
MyDeal will list on Thursday 22 October.
The latest infusion of cash, according to Mr Senvirtne, will help MyDeal better push its brand to consumers and improve its technology platform.
With 38 staff in MyDeal's Melbourne offices who are predominantly engineers and marketers Mr Senvirtne said MyDeal was best described as a technology company that "pretended to be a sort of retailer".
"It is a technology company, we built our propriety marketplace software, we own it and now we focus on scaling it," he said.
Source: Thanks smh.com