NSW, Victoria house prices plunged as pandemic took hold, new data shows
Australian property owners have rushed to refinance loans in unprecedented numbers during the pandemic as the turmoil unleashed by the coronavirus caused a sharp plunge in house values in NSW and Victoria, new real time data shows.
Property transactions processed on e-conveyancing platform PEXA show that for the first nine months of this year residential values slumped 9 per cent in NSW and 14 per cent in Victoria.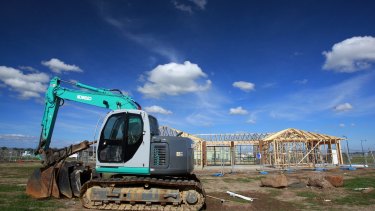 While NSW's values showed a small improvement in the September quarter, in Victoria they fell another 5 per cent as the state suffered through a second wave of the pandemic, the data shows.
The electronic property exchange platform processes about 20,000 sales a week and tracks mortgage and refinancing changes, giving it a real time edge in identifying key trends across the sector.
Its first Property and Mortgage Insights report reveals that settlement volumes crashed after the pandemic struck, dropping from 20 per cent year-on-year growth in January to declines in May and June because of COVID-19 lockdowns.
The volume of homes and other real estate changing hands has since steadily recovered, and by the end of September was above 2019 levels, PEXA said.
At the same time, refinancing of mortgages soared from about 20 per cent growth in January to more than 70 per cent in June, driven by mortgage stress, fear of the pandemic's economic fallout, and property owners shopping around for better loan deals as interest rates hit record lows.
"This contributed to a 27 per cent increase in total refinances in the first nine months of 2020 compared with the same period in 2019," the report said.
The report also identifies a significant lending shift from small lenders back to the big four banks in most states as owners sign new mortgages and refinance their properties.
Two years ago, Australia fulfilled a decades-long quest to make digital e-conveyancing the norm across the property sector, which settles $300 billion worth of transactions annually. The two largest states made e-conveyancing compulsory for all property title and mortgage transfers, shredding 150 years of paper title history.
Commercial real estate has been hit harder by the pandemic than residential properties, with values falling 14 per cent in NSW for the first nine months of the year.
Although the outlook remains unclear, Victoria's harsh lockdown will have a lingering impact with the property market likely to "remain subdued," the report says. "Analysing previous housing cycles and key economic drivers suggests that in the medium term, house prices and new loan commitments will decline further," it said.
PEXA's chief executive Glenn King said PEXA's data, compiled by economist Craig Emerson, combined with other sources allowed it to quickly identify current trends in property sales and financing, and compare them with previous periods.
Source: Thanks smh.com