Amazon extends footprint as e-commerce underpins industrial property
Internet retail giant Amazon has extended its footprint with a new fulfilment centre in Melbourne's western suburbs as it builds on the momentum of online shopping that has swelled with shoppers forced indoors during global pandemic lockdowns.
It is one of a few new centres for the e-commerce behemoth as it prepares for a surge in demand during the upcoming global Black Friday shopping event post the American Thanksgiving holiday later this month.
The site will be 37,000 square metres, almost twice the size of the Melbourne Cricket Ground with capacity to house up to six million items.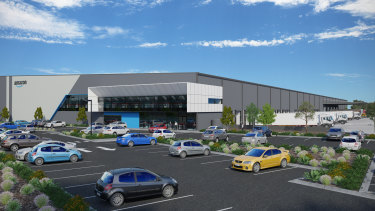 It reflects the boom times being experienced in the industrial property sector where demand for warehouses and storage has expanded rapidly to cater for the high levels of online shopping.
Cushman & Wakefield's head of research John Sears says, in the latest industrial market beat, that leasing activity has been strong in Melbourne and Sydney in the past three months.
He said with the lockdowns easing in Melbourne, he expects activity to have a resurgence.
"Leasing activity in Melbourne at the start of 2020 in January and February was very strong, continuing the trend seen at the end of 2019, and despite the current COVID environment, inquiry activity is down but not as far as one may expect," Mr Sears said.
The new site will be housed in the under construction Dexus industrial estate in Ravenhall, Melbourne and will more than double Amazon's operational footprint in Victoria. It will join with the first Amazon centre in Dandenong, south east Melbourne.
Craig Fuller, Amazon's director of operations said as Amazon continues to grow in Australia, there is a need for more fulfilment centres to handle demand and to also improve the speed with which goods are delivered to customers.
Building more centres in Australia has always been in the works because of the longer term growth that we've anticipated.

Amazon director of operations Craig Fuller
"Our Dandenong fulfilment centre wasn't designed to fulfil big items like flat screen televisions, so by having another Melbourne fulfilment centre we can broaden our selection and therefore improve the delivery speed of those type of products to Melbourne customers," Mr Fuller said.
"Building more centres in Australia has always been in the works because of the longer term growth that we've anticipated, but what coronavirus has done is probably brought forward those plans."
Mr Fuller added that the e-commerce industry overall, has experienced greater levels of online shopping and that puts more pressure on online retailers such as Amazon to increase storage capacity and service customers.
After a slow start, Amazon now has two Melbourne Delivery Stations in Mulgrave and Melbourne Airport's business park and last week signed a lease with Charter Hall in Brisbane.
Amazon Australia has two other manual fulfilment centres: one at Goodman Group's Moorebank in Sydney and at Perth's Airport Precinct. It also plans to open a fourth centre at Lytton in Brisbane before Christmas.
It will also locate facilities with Goodman at Oakdale South in Sydney's west and in Brisbane.
Dexus chief investment officer, Ross Du Vernet, said the centre will be within the Horizon 3023 logistics and warehousing precinct. It is a 127-hectare site in a West Melbourne industrial precinct which adjoins the Caroline Springs train station and is close to the proposed Western Intermodal Freight Terminal.
Mr Du Vernet said Dexus has commenced works on the site and will ensure it meets Amazon's specific requirements, supporting more than 200 construction jobs over the development and fit-out phase.
The lease for the centre was undertaken by CBRE's industrial and logistics business.
In Brisbane, the Charter Hall Prime Industrial Fund, has recently completed a new facility for a major global logistics company and signed new leases with Amazon and Australia Post at the TradeCoast Industrial Park in Pinkenba.
The $115 million TradeCoast Industrial Park incorporates more than 50,500 sq m of space on a site of 11.5 hectares that was consolidated through strategic and staged acquisitions of adjoining land parcels in this tightly held and land constrained location.
Source: Thanks smh.com