Office vacancy hits double digits as workers stay at home
The embattled CBD office sector is forecast to reach double digit vacancy rates in the coming year with sublease space even higher which is forcing landlords to reassess rental charges to entice tenants to stay.
But, reflecting the year of mixed outlooks, landlords maintain that office space is still needed, albeit recognising that demand will change in the new post-COVID world where half the staff are coming back to the office and the rest are opting to work from home.
M3property says the Sydney CBD is heading for hard times amid high unemployment and economic uncertainty that will see vacancy rates reach 8.8 per cent this year and hurtle towards 10.7 per cent in 2021.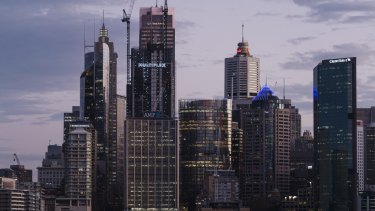 In its latest Sydney CBD Office Market Supply, Demand and Vacancy Outlook: Spring 2020 report, managing director NSW at m3property, Andrew Duguid, said despite the looming higher vacancy rates, he expected to see signs of recovery in early 2021.
"While we still expect the second half of 2020 to be impacted by increasing sub-lease availability due to tenants postponing commitments and some space reduction due to tenant losses, we expect 2021 to see improving demand as the markets recover with restrictions easing," Mr Duguid said.
Mr Duguid said lower overall demand was expected to continue, at least temporarily, with a trend towards short-term lease renewals in existing spaces while tenants considered their post COVID-19 space requirements.
"There's been a clear trend of tenants negotiating short-term renewals with longer term decisions delayed until greater certainty returns to the market."
According to JLL's latest office market for the third quarter the national CBD office market vacancy rate increased by 2.0 percentage points from 10.2 per cent to 12.2 per cent.
The report says the Sydney CBD recorded -94,500 sq m of net absorption over the quarter and vacancy increased to 10.2 per cent in the three months to the end of September.
In Melbourne, the CBD recorded -70,100 sq m of net absorption over the quarter and vacancy increased to 11.3 per cent in third quarter.
But with sublease space reaching record highs, office markets remain under pressure, says CBRE in a new report.
Australia's major office markets are experiencing the full brunt of 2020's economic and health crises, with sublease space jumping by more than 30 per cent nationally in the third quarter to reach a new peak of 352,768 sq m.
CBRE's September 2020 Sublease Barometer report says the increasing uncertainty from COVID-19 is impacting tenant demand, with sublease volume now representing 2 per cent of the country's total office stock.
CBRE's head of office leasing for Pacific, Mark Curtain, said while market activity was slowly improving each month, sublease space was expected to edge even higher in the months ahead.
"The landscape of Australia's office market has changed significantly in 2020, with occupiers shedding space that was earmarked for growth," Mr Curtain said.
"When it comes to assessing and making decisions around long-term real estate strategy, occupiers are adopting a more intensive risk assessment amid growing economic uncertainties and the widespread adoption of remote and flexible working."
CBRE's head of office occupier research, Joyce Tiong, said continued economic headwinds would
underpin the need for landlords to provide greater flexibility around leasing terms.
"Continued cost-cutting by businesses and persistent economic headwinds will result in occupiers seeking greater lease flexibility to accommodate a 'flex up' or 'flex down' workforce – as well as catering to employee expectations for a 'more than a workspace' environment," Ms Tiong said.
Source: Thanks smh.com