ResMed sees another ventilator boost as it lifts research spending
ResMed chief Mick Farrell has promised the medical device maker will double down on its research and development spending for digital health after it posted another strong quarter due to ventilator sales, but warned those tailwinds won't last.
The sleep treatments company said on Friday its first-quarter revenues were up 10 per cent to $US752 million ($1.07 billion) and net income rose 27 per cent to $US217 million. Those numbers were propelled by another $US40 million boost for sales of the company's ventilators as second and third waves of the COVID-19 pandemic continued to rip through global economies.
The numbers allowed the company to pay out close to $US56 million in dividends, declaring a quarterly payment of US39c per share.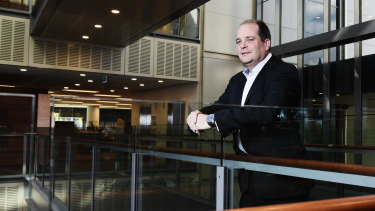 But talking to investors on Friday morning, Mr Farrell warned "the magnitude [of ventilator sales] is decreasing over time", and the company was now considering the bounce-back of its sleep business and investing heavily in research and product development to gain an edge in digital and remote healthcare.
"The consumer prefers lower cost [treatment] and at their own home — that's ResMed's strategy," he said.
Research and development spending for the quarter was up 14 per cent, to $US54.5 million. The business has long championed its software for managing sleep devices as a key option for future growth, with revenues from this segment growing 6 per cent throughout the quarter.
The longer-term bounce-back of demand for sleep devices and diagnoses in clinics remains unclear, with management highlighting each of its 140 markets would be different. Coronavirus lockdowns had seen significant drops in revenue for sleep apnea treatments in a number of countries since March.
Mr Farrell said many markets were back to more than 90 per cent of their pre-COVID demand, with Germany a leading example.
German Chancellor Angela Merkel on Wednesday announced new coronavirus lockdowns as Europe's largest economy fights record numbers of new infections, but Mr Farrell said even with bars and restaurants closing, the company remained confident patients would continue to be able to access medical services.
"We are really at a very high point of recovery," Mr Farrell said.
Over the past quarter, demand for sleep products in China was at about 70 per cent of pre-COVID levels, while the US varied depending on the state but was between 60 and 80 per cent of previous demand.
More to come.
Source: Thanks smh.com