Foxtel, Supercars and Seven in streaming standoff
Motorsports organisation Supercars has told Foxtel that it may not be able to air popular races for free on streaming service Kayo Sports because of an agreement in place with its other broadcast partner Seven West Media.
Foxtel announced two weeks ago it would put some Supercars events in front of its paywall, in a move designed to attract more customers and win more advertising. But a dispute between Supercars, Foxtel and Seven is about to flare up over which events can be aired for free on Kayo.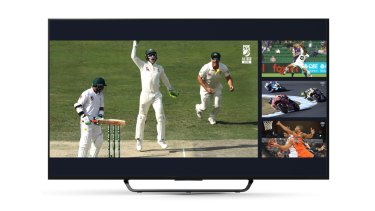 Industry sources who spoke on the condition of anonymity because the talks are confidential indicated Foxtel is unable to stream events such as the Bathurst 1000, which will air on Seven, for free on Kayo due to exclusivity provisions given to the free to air broadcaster in its new deal.
But at Foxtel's annual upfronts, chief executive Patrick Delany said a selection of races would be free in front the paywall. "A freemium element of Kayo which will include clips, repeats, shows and stats. But also a selection of live sports too," Mr Delany said. "The sport we launch with is Supercars."
Supercars announced a five-year deal with Foxtel and Seven West Media worth $200 million in September. Under the new deal, Seven will broadcast the championship and its main event, the Bathurst 1000, while Foxtel has the rights the all other races. Foxtel agreed its events would be behind a paywall while Seven was announced as exclusive free-to-air broadcaster. This means that Foxtel can make some events free for users trialling the app, but that it cannot make the same events that Seven broadcasts free available to non-Kayo subscribers.
A spokesperson for the Supercars said the organisation was still finalising the 2021 calendar.
"Once the calendar is complete, we will work through 2021 coverage plans with our broadcast partners and they will become public from there," the spokesperson said. "Any contractual details between Supercars and its partners (broadcast or otherwise) will always remain commercial in confidence."
Talks between Foxtel and the Supercars come after Adelaide announced it would no longer host an annual race. The organisers said the ongoing impact of the coronavirus pandemic and declining interest in motorsports had made the event unsustainable. The Superloop Adelaide 500 is part of Foxtel's existing contract.
Kayo launched in 2018 and, like Foxtel, has used a hard paywall to grow its subscriber base. But that changed last month when Foxtel announced it would start to release some games and events from behind Kayo's paywall in an attempt to attract more subscribers and give advertisers the ability to reach more people. Typically, free-to-air broadcasters offer the ability to reach more people while Foxtel is appealing to advertisers because of its subscription model which allows them to understand the viewer. Kayo currently has more than 600,000 paid subscribers.
When Foxtel announced it would start to broadcast some Supercars events for free, it signalled plans to branch out into other sports with this approach. Industry sources have since said that model was proposed to Rugby Australia, which will make a decision on its new rights deal imminently.
Source: Thanks smh.com