Neobank Judo raises cash for expansion despite pandemic losses
Neobank Judo is planning another round of fund raising aimed at further expansion despite a massive hit from bad debts due to the coronavirus pandemic.
Judo's co-chief executive Joseph Healy said the bank would raise between $200 million to $300 million by the end of the year as the small business lender grows its loans business despite the financial storm which led to a significant increase in bad loan provisions for the year ending June 30.
"There are good lending opportunities even in difficult markets if you're very disciplined around risk management," Mr Healy said.
The latest funding round is expected to value the business – which was profitable as of August this year – at "well above $1.5 billion," he said.
The privately owned Judo concluded its most recent round of funding in May totalling $230 million, which valued the business at more than $1 billion.
Judo said it had added nearly a billion dollars of lending to its portfolio during COVID as small business customers became frustrated with big banks and the lack of access to staff.
"The statistics show very strongly that we've been a beneficiary of the current crisis," Mr Healy said.
According to Australian Prudential Regulation Authority statistics, bank lending to small business shrunk more than 2 per cent while Judo's lending grew 40 per cent to a loan book of $2.5 billion.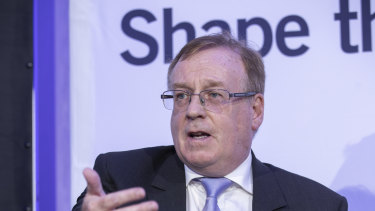 This is despite the loan losses that are expected to materialise next year as the pandemic-induced downturn finally hits small business customers as loan and rent deferrals are relaxed.
In financial accounts filed with the Australian Securities and Investments Commission, Judo reported a net loss of $50.5 million for the year ending June 30, up from a $26.8 million loss the prior year, on interest income of $52.3 million in just its second full year of business.
The most significant factor was a $23.5 million provision for impairments on loans and treasury investments following a review of the loan book triggered by the pandemic.
"The outlook surrounding the COVID-19 pandemic remains highly uncertain, particularly with regards to the severity and duration of the pandemic, and also the speed of the economic recovery," the company said.
"We remain quite pessimistic, I would say, about the potential for losses in the economy when we enter that March to June period in 2021," Mr Healy said.
Judo said it undertook a full review of the loan book to project potential future credit losses which may result from ongoing economic impacts.
The company identified $424 million worth of loans, on a business loan book totalling $1.436 billion as of June 30, that it classifies as requiring Close Monitoring with 18 per cent expected to become non-performing.
This assessment has been based on the extent to which these customers operate in high-risk industries such as accommodation, food services, the arts and recreation services and other areas like retail trade, said Judo.
Judo said various kinds of assistance have been provided to customers including payment deferrals, capitalisation of interest and conversion of loans to interest only for a period.
Business Briefing
Start the day with major stories, exclusive coverage and expert opinion from our leading business journalists delivered to your inbox. Sign up for the Herald's here and The Age's here.
Source: Thanks smh.com