'Too little, too late': Crown should lose licence over crime-linked junkets, inquiry told
A NSW public inquiry has been told that Crown Resorts' business partnerships with high-roller "junket" tour operators linked to Asian organised crime gangs show it is unfit to hold a licence for its new Sydney casino at Barangaroo.
Counsel assisting Naomi Sharp, SC, told the NSW Independent Liquor and Gaming Authority (ILGA) inquiry on Friday that Crown's dealings with junkets revealed "a culture that pursues profit at all costs, a culture of disregard – or some may say arrogance – to regulatory compliance, and a culture of denial".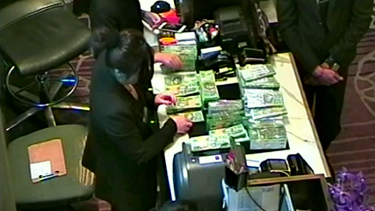 While the James Packer-backed casino group has proposed a number of measures to improve how it checks its junket partners for criminal links, Ms Sharp told Commissioner Patricia Bergin that these were "too little, too late" to make it fit to operate a casino in NSW.
"The gestures are largely tokenistic and cannot be expected to address the more fundamental problems or risk management, corporate governance and culture that have been thrown up," she said.
The ILGA inquiry was launched in response to a series of reports by The Sydney Morning Herald, The Age and 60 Minutes that revealed many of the junkets Crown worked with had clear links to powerful Asian triad gangs.
Commissioner Bergin will recommend whether Crown should keep the licence to its new $2.2 billion casino at Barangaroo, which is set to open next month. While an inquiry's commissioner does not necessarily accept counsels assisting's submissions, they can give a strong indication of the final findings.
Ms Sharp said Commissioner Bergin should find that Crown's dealings with junkets made it unsuitable to keep the licence, and that the proposed fixes it has put forward "do not convert it into a position of suitability".
Over the past three days, counsels assisting have submitted that Crown is unsuitable due its failures to protect its staff in China before 19 were arrested and charged with gambling crimes in 2016, and that the NSW casino regulator should consider banning Mr Packer from involvement.
Ms Sharp said on Friday it was Mr Packer, during his time as Crown's chairman, that set in train its strategy of working with junkets to bring wealthy Chinese gamblers to its Australian casinos and had set a "dubious tone" across the business that "put profits above all else".
By failing to ensure it only went into business with people of good repute, Mr Sharp said Crown had breached one of its core obligations under NSW's gambling laws and compromised its objective of keeping casinos free of crime and criminal influence.
The inquiry, which has the same powers as a royal commission, has heard how for many years Crown was warned in media reports, internal due diligence reports and even by the financial crimes regulator Austrac that it was in bed with people linked to organised crime.
However, it continued working with these junkets to bring billions of dollars into its casinos in Melbourne and Perth, claiming these reports were only ever "allegations".
Ms Sharp said that in these situations, Crown should have taken the approach of "when in doubt, rule it out".
"Precisely the opposite approach was adopted: if there was doubt, rule them in until the allegations could be substantiated in some way that's never been articulated," she said.
Crown has said it has paused dealing with junkets until the middle of next year and is reviewing how it will work with them, if at all, after that.
Ms Sharp said this meant the inquiry could not know what Crown's future intentions in relation to junkets were, to which Commissioner Bergin agreed made it "all a bit uncertain".
"Nobody knows what will happen because, I'm told for instance by a coupe of the [Crown] directors, that one just has to wait to see what's going to happen," Commissioner Bergin said.
"They're going to take the next six months to work it out. That's as good as it gets I think."
Commissioner Bergin must hand down her findings by February 1 next year.
Business Briefing
Start the day with major stories, exclusive coverage and expert opinion from our leading business journalists delivered to your inbox. Sign up for the Herald's here and The Age's here.
Source: Thanks smh.com