Surf, ski and bike hire gets the sharing economy treatment with Perth start-up
With international travel scratched until at least next year, Chris Evans hopes his outdoor sports equipment hire start-up can capitalise on Aussies focusing their wanderlust on their own backyard.
Airbnb brought the idea of peer-to-peer sharing to the masses, now there are platforms for virtually everything from spanners to forklifts.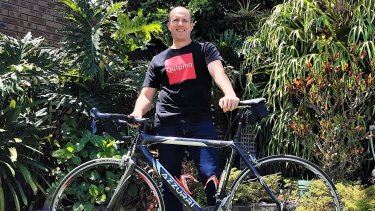 Mr Evans, a keen surfer, applied the idea to outdoor sports equipment while dreaming about travel during long stretches of study for his MBA at the University of Queensland in 2016.
In 2017, the now Perth-based entrepreneur launched Quipmo, where users can list their unused surf, bike and snow gear for rent, with the platform charging a 20 per cent service fee.
It has been a tough slog growing the business with bootstrap funding but the platform now has private and business listings in 21 countries and recently secured $500,000 in pre-seed funding from WA investment house Eastcourt.
Mr Evans said the money would be used to build marketing teams in outdoor tourism hotspots in WA and South East Queensland, and was optimistic about the platform's prospects as state borders began to soften.
Tourism statistics reveal a sector decimated by a lack of international travellers and restricted domestic travel, with overnight spend down 80 per cent compared to the year before.
"It is still early days, but we are very excited about the future and whilst it is a challenging period given COVID we are very bullish on the travel and leisure space across Australia over the near term," Mr Evans said.
"As soon as the domestic borders come down and freedom comes back, there is going to be a real appetite to see our beautiful country and there will be changes on how people travel, there won't be as much focus on seeing the big cities."
Like other peer-to-peer sharing platforms, Mr Evans had to overcome the issue of property damage or theft. He spent nearly a year perfecting the safeguards to keep users honest.
"We vet users as they join the platform like Airbnb and eBay, both parties also review each other, which ensures transparency in terms of protection around damage, theft and loss," he said.
Mr Evans said users were also covered by the platform's insurance policy.
He said existing hire businesses have flocked to Quipmo because often they didn't have the capital to create their own online platform.
"There is already a massive mature sector in this space, whether it is hiring a surfboard in the Whitsundays or a surfboard in Torquay or a bike on Rottnest," he said.
"E-commerce has changed consumption and how the hire industry operates it is ripe for disruption."
Michele Villa started Ocean Cycles in Fremantle in January and signed up to Quipmo shortly after because he liked the sustainability aspect of the sharing economy.
"We loved the concept because it's a part of the sharing economy and we are a sustainable business so the idea of sharing equipment between people and making business out of that was very attractive," he said.
Source: Thanks smh.com