MAB plots course for $3.3b industrial estate at Avalon Airport
Private developer MAB Corporation is planning a $3.3 billion industrial estate on a 780-hectare site next to Avalon Airport as it looks beyond its major Merrifield project in Melbourne's north.
Spurred by the forecast growth in the city's west, the developer signed a contract with a landowner three years ago over 255-275 Avalon Road to gain control of the former salt production site.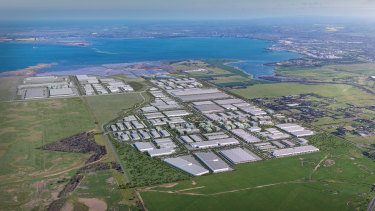 Its ambitious plans for the agricultural-zoned land include a manufacturing- and logistics-focused business park integrated with trucking magnate Lindsay Fox's Avalon Airport.
"A well-planned airport integrated with surrounding industrial development strongly aligns with Victoria's planning and growth agenda and can provide a major employment and economic boost for the entire region," MAB co-founder and managing director Andrew Buxton said.
"It will create a thriving multi-use precinct and meet untapped industry demand. It is a true game-changer that will further Victoria's reputation as the freight state by linking Avalon to the world."
MAB estimates the 40-year project will support about 18,000 jobs and create a transport, logistics, wholesale trade, airport-related uses and smaller-scale business ecosystem.
The developer is poised to submit a rezoning request and hopes, if its proposal is accepted, to start construction in 2022 ahead of the first businesses opening in 2023.
Planning authority Geelong Council was contacted for comment.
Property records show a final transaction for the land is yet to take place, with the site still controlled by ASX-listed animal stock feed and nutrition business Ridley Corporation.
Avalon sits between Geelong Port and the Port of Melbourne and is relatively close to the proposed Western Interstate Freight Terminal in Truganina.
MAB's large Merrifield estate on Melbourne's northern outskirts includes housing, industrial and a retail component where it is about to complete a shopping centre in a partnership with Queensland pension fund QIC.
In April last year, the group inked a deal to sell a half share of another shopping centre project, University Hill in Bundoora, to Vicinity Centres for $67.8 million, settling the transaction in December.
Vicinity said Tuesday it will rebrand University Hill as part of its DFO outlets, taking its portfolio of similar centres to seven.
Once Melbourne's lockdown lifted, foot traffic in the centre sprang back 27 per cent above the previous year's levels, Vicinity said.
MAB chief operating officer David Hall said appetite for industrial development had quietened during the pandemic, but was expected to bounce back quickly.
The developer will launch another apartment complex in the Dockland precinct next year despite Mr Hall saying he expected post-COVID conditions to be lean.
"There will be some drawn out pain. We're anticipating next year as being pretty lean," he said.
"Some sectors will come out like a rocket but others like residential apartments will suffer for a while."
Market Recap
A concise wrap of the day on the markets, breaking business news and expert opinion delivered to your inbox each afternoon. Sign up for the Herald's here and The Age's here.
Source: Thanks smh.com