Grocon faces insolvency as work grinds to halt on hip inner-city office site
Work on developer Grocon's only Melbourne project – a 12-level inner-city office – has ground to halt, an ominous sign for the once-prolific developer that is already struggling with a legal stoush over its Sydney Barangaroo project.
The company appears to be on the brink of administration, with subcontractors understood to be owed six months back pay and the gates on its construction site locked.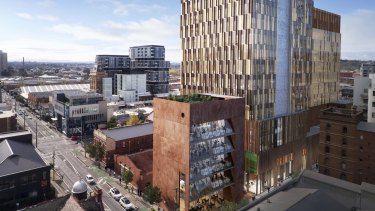 Grocon's Northumberland project in Collingwood, a once grungy industrial suburb that is now Melbourne's beating hipster heart, was due to finish late this year, with anchor tenant cosmetic brand Aesop to start occupying a large chunk early in 2021.
Grocon is constructing the $111 million office development in a fund-through deal with the wealthy Liberman family-backed Impact Investment Group using debt funding from Wayne Lasky's MaxCap.
But workers have not been seen on the site for months, according to construction staff on other nearby high-rise projects and other industry sources.
Subcontractors removed tools and equipment over previous weeks, they said. When visited by The Age and The Sydney Morning Herald midweek, the construction site was empty and locked up.
Most of the building's external fabric appears complete.
The hip, John Wardle-designed structure sits in a development-heavy pocket of Collingwood alongside multiple other towers and opposite a large apartment under construction by Hickory.
Grocon's construction legacy in Australia's biggest cities rivals any other private developer.
But the developer, now run by chairman and chief executive Daniel Grollo, the grandson of Grocon founder Luigi, has faced a series of legal challenges in the courts, most recently with property heavyweights Dexus, APN Property Group and GPT.
It is also embroiled in a $270 million legal stoush with the NSW government which it says undercut its high-rise aspirations in Central Barangaroo, forcing it to sell its share in the project at a steep discount to Chinese player Aqualand.
Mr Grollo would not comment when contacted, referring The Age to a company spokesperson.
"Work is continuing on Grocon's Northumberland project at Collingwood. COVID has slowed the completion of the project, but work has not stopped," the group said in an email.
But Impact, which owns the site, is understood to be on the verge of ending its contract with Grocon.
The coronavirus outbreak, work-from-home and strict social distancing measures are putting enormous pressure on office and apartment developers, with many expected to struggle over the next six months as they balance high-cost building commitments with slow sales and uncertain tenants.
Grocon recently filed documents with corporate regulator ASIC saying its annual solvency resolutions had not been passed, a miss it attributed to difficulties with Central Barangaroo and the COVID-19 pandemic.
The resolutions are meant to attest to a company's solvency for the next year and its ability to do business.
"Given the challenges faced by the construction industry during the COVID-19 pandemic, and Grocon's ongoing legal action in the NSW Supreme Court seeking compensation for the financial losses the company experienced as a result of major delays in Central Barangaroo project, company directors have chosen the option of filing a Form 485 with ASIC at this time," Grocon said in the email.
Mr Lasky said MaxCap was committed to the Northumberland project.
"Impact is the borrower on that development and both parties are totally committed to successfully completing the project. No further comment," he said in a text.
Grocon is expected to make an announcement tomorrow.
Business Briefing
Start the day with major stories, exclusive coverage and expert opinion from our leading business journalists delivered to your inbox. Sign up for the Herald's here and The Age's here.
Source: Thanks smh.com