Trump's final act will be to goad the Chinese dragon
Authorities in Beijing are getting ready to deal with a "final act of madness" from Donald Trump in the next few weeks. The defeated US president is preparing "extreme measures" to secure his political legacy as the president that took on the cheating of China – and won.
China's state-owned newspaper The Global Times, which often acts as the sharp-tongued propaganda arm of the country's Communist Party, warned this week that the "staged hysteria" that had defined Trump's stint in the Oval Office was about to reach its crescendo.
The administration is preparing a multi-pronged attack on Beijing, the tabloid claimed, with plans to ratchet up tensions in several controversial and complex geopolitical clashes. As well as securing Trump's political legacy, China hawks believe they can "set obstacles" in the path of Joe Biden's foreign-policy ambitions that will prevent him reversing any of Trump's perceived successes. But are these claims a true reflection of what is going on – or is China's propaganda machine getting a bit too hysterical itself?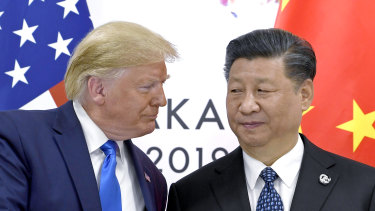 There is certainly evidence to suggest that moves are afoot in the world's most powerful corridors. Last week, Washington launched yet another damaging attack on China's technology sector, which it has accused of stealing ideas from American companies to gain an unfair advantage, particularly in 5G. President Trump signed an executive order that restricted US investors' access to 31 Chinese companies that were designated by the Pentagon as "owned or controlled" by China's military. These included some significant companies, including China Telecom and China Unicom.
China also warned that it will "strike back" against any moves that undermined its core interests, after comments by the US secretary of state. In a highly provocative move, Mike Pompeo denied that the island of Taiwan was in any way part of China, provoking the Chinese foreign ministry into a declaration that the country will "strike back" against any moves that undermined its core national interests.
'Staged hysteria'
Trump was previously a sharp critic of the use of executive orders, which can be issued by the president to an executive branch of the government and have the force of law. During the Obama years, the current president claimed the use of such orders was "an easy way out" and an example of weak leadership. It highlighted an inability to work with a democratically elected Congress, he argued.
Indeed, in 2016, Republicans established a task force to examine ways to "restore the proper balance of powers" from the president to Congress. However, President Trump has been extremely willing to sign these orders once he was handed the key to the Oval Office – and the issue is no longer high on the Republican Party's agenda. Expect many more to be issued over the next few weeks focusing on four main areas.
American news agencies have been reporting a flurry of activity, as news of various potential policy actions leak out. As well as further moves to protect US intellectual property being used by China's military, there could be action targeting illegal activity in other countries' territories by Chinese fishermen – and increased sanctions against Communist Party officials or institutions that are involved in the crackdown on democracy in Hong Kong.
There is also likely to be action targeting the treatment of the country's Uighur Muslims in the western regions, which will inflame tensions significantly as Beijing will regard it as interference in the country's own internal affairs.
Change of tone
This change of tone of the Trump administration regarding forced labour camps was first seen last month. A senior Trump official referred to China's "re-education camps" as "concentration camps" for the first time.
Deputy White House national security adviser Matt Pottinger, a major influence on President Trump's China policy, made the remarks in Mandarin. "There is no credible justification I can find in Chinese philosophy, religion, or moral law for the concentration camps inside your borders," Pottinger said in a statement directed at the Chinese people.
The human rights issue may be one of the so-called obstacles put in to hinder Biden's ambitions, as he has a strong record criticising Beijing over human rights – so is unlikely to row back from comments by the current Republican administration, however annoyed Beijing gets. Branding the facilities in Xinjiang "concentration camps" will make all of Washington's interactions with China much more difficult in the future.
But what does all of this mean for investors?
Right now, the answer is not very much. Any actions are likely to accelerate trends that were already in place – such as adjusting supply chains to have less reliance on China – rather than send policy in a completely new direction. This is precisely what Trump and his supporters now want to happen, of course.
The centrepiece of the Trump years has been his targeting of the rise of China – and he is ensuring that President-Elect Biden will not be able to ease the pressure on Beijing without being branded as weak.
Also, Trump's tough talk has failed to be backed up by firm action on several occasions in the past. Indeed, the Trump executive order last week contained caveats so US companies could get around any headline ban.
Licences to circumvent the restrictions are available – and the order stopped short of "blocking" the companies altogether. It also does not get implemented until January 11 and it still permits US-based investors to continue to own or sell shares they already hold in these companies.
The main takeaway for investors is that relations between Washington and Beijing are unlikely to improve any time soon. In fact, they may get worse.
Garry White is chief investment commentator at wealth management company Charles Stanley.
The Telegraph, London
Market Recap
A concise wrap of the day on the markets, breaking business news and expert opinion delivered to your inbox each afternoon. Sign up for the Herald's here and The Age's here.
The Daily Telegraph
Source: Thanks smh.com