Bega's big dairy acquisition could sour Australia's relationship with China
The sale of Lion Dairy and Drinks to Bega Cheese creates a new sizeable force in Australian food manufacturing but it rubs a $66 million dose of fresh salt into our wounded relationship with China.
China Mengnui Dairy's more generous $600 million bid was blocked by Treasurer Josh Frydenberg in August.
Australia probably won't have made any friends in Japan either given Lion Dairy and Drinks is a subsidiary of Japan's Kirin which was forced to leave money on the table and accept Bega's $534 million offer.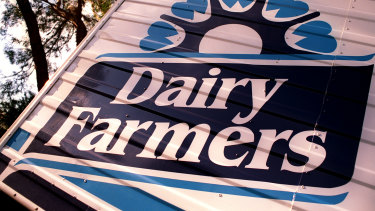 Kirin said in August when it became clear that China would not receive a Foreign Investment Review Board (FIRB) tick that it was disappointed with the outcome which effectively forced it back to the drawing board.
Further fermenting discord with China would be reports that FIRB and Treasury had approved Mengnui's November 2019 offer but seven months later Frydenberg had overruled both on national interest grounds.
Indeed the rejection of Mengnui Dairy's acquisition had been responsible for placing further strain on the relationship between Australia and China.
The latest casualty of this is Australia's coal exports with $700 million worth now sitting in Chinese ports without permission to unload.
Already this diplomatic covert trade war has affected goods and services from lobsters to timber and from barley to wine, meat and education.
With Mengnui out of the race, the auction for Lion's formidable portfolio of dairy and juice brands was highly contested. Over the past few weeks Bega saw off Canadian dairy giant Saputo and alternate asset manager Tanarra in a desperate scramble for the winning line.
The outcome, which cements an Australian company's control of a large slice of food manufacturing, certainly plays well into Prime Minister Scott Morrison's post COVID desire for increased local food production.
But it means a lot more for the empire building Bega which has barely digested its most recent acquisition – the $460 million deal to acquire a group of brands including Vegemite in 2017.
China's loss is nothing short of serendipitous for Bega which probably had its hands full when Lion Dairy and Drinks was first put up for sale in 2019.
Bega's winning offer has catapulted the company into the big food league. Its existing stable of goods included its traditional cheese products for which it is best known, alongside Peanut butter and vegemite plus numerous dips, dressing and mayonnaise.
The Lion acquisition will add milk, juice and yoghurt brands – Dairy Farmers, Pura, Farmers Union, Daily Juice and Big M and Yoplait. The Lion assets also bring with it national manufacturing capability and Australia's largest cold chain distribution network.
It is no surprise the deal provides Bega with significant synergies of $41 million annually given the complimentary ranges of brands.
Bega has bought revenue of $1.6 billion and earnings before interest tax depreciation and amortisation of $56 million – and that's not counting the synergies. In doing so it will create a company with $3 billion in revenue and one with more heft to negotiate with the major supermarket chains that have extensive house brands products competing in many these categories.
Despite receiving a positive reception from investors, Bega's acquisition has risks given its size. The company's market capitalisation before the transaction was only $1 billion – the purchase represents a big bite for a company of its size.
After three days of being suspended from trading Bega announced the terms of its $401 million capital raise – set at a 7.6 per cent discount to the theoretical ex-rights price and a 9.1 per cent discount to the prevailing share price.
Thus there will be a lot riding on Bega achieving the targeted cost reductions and a double-digit uplift in earnings per share in 2022.
The company has also given assurances it will be looking to use its cash flow to reduce debt and return to more conservative gearing levels.
Business Briefing
Start the day with major stories, exclusive coverage and expert opinion from our leading business journalists delivered to your inbox. Sign up for the Herald's here and The Age's here.
Source: Thanks smh.com