Optus boss takes aim at Netflix's 'free go' on data usage
Optus boss Kelly Bayer Rosmarin says video streaming services like Netflix need to do more to take the pressure off broadband networks, as telcos scramble to meet rising consumer demand for data.
Speaking at a business outlook briefing on Monday, Ms Bayer Rosmarin said that while the likes of Netflix were driving the data demand on networks they don't invest directly into the upgrading the core networks.
With streaming media content and gaming driving the spikes in network traffic during the lockdowns, Ms Bayer Rosmarin said over-the-top (OTT) streaming services must become part of the broader industry conversation around fortifying broadband networks.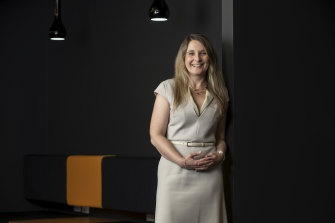 "We need some sort of a redifiniton of our industry, at the moment there's a lot of OTT providers, whether video streamers or gaming companies that can have a major impact on the level of infrastructure-build that's required," she said.
"At the moment they see bandwidth usage as a free go."
Netflix was the first service in Australia to reduce the data its streaming service consumed in a bid to reduce broadband congestion at the start of the lockdown and Ms Bayer Rosmarin said the measure highlighted the role streaming services were playing in shaping traffic on networks.
"When those players have that kind of ability, there should be collaboration in the industry to set the right parameters and participation in the infrastructure capital to make sure that isn't abused and we chart a course forward where all players, and importantly customers, win.
"And we don't land up in a situation where we have a small number of consumers that are generating a huge infrastructure cost that has to be borne by the Australian public," she said.
Getting the federal government to put more pressure on OTT players is part of a broader reform agenda highlighted by Ms Bayer Rosmarin, which includes reducing the wholesale costs imposed by NBN Co, an improved NBN connection process and a fair allocation of 5G spectrum.
She said the measures would go a long way in helping telcos plot a path out of an environment where telcos were struggling to make sustainable returns on their investment in 5G spectrum and technology.
"Structural shifts are stripping profitability out of the sector: The NBN, growth of the tier-two MVNO market, and the OTT providers, who contribute little, if anything, to the infrastructure they rely on, yet drive increased usage and continued investment for telecommunications providers."
Optus posted a net loss of $27 million for the half year to September 30, 2020 compared to the $235 million in profit posted for the comparable period in 2019. Revenue for the period dropped 9 per cent to $4.1 billion.
Source: Thanks smh.com