Treasury Wine 'extremely disappointed' by China move, pivoting to other markets
Treasury Wine Estates boss Tim Ford says the company is planning for China's sudden 169.3 per cent tariff on its wine exports to be in place for years and it aims to compensate for the drop by lifting sales in the United States, Europe and fast-growing markets such as Vietnam and Thailand.
Mr Ford said the China tariff decision, announced on Friday, would ripple across the Australian wine industry, costing jobs and damaging regional communities and economies that are the lifeblood of the wine sector.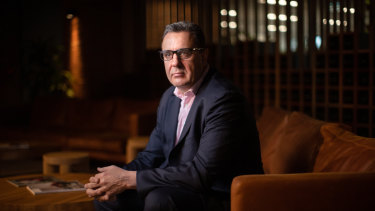 Treasury's wine has not passed through Chinese customs since early November, and Mr Ford said it was unknown how much of its wine would sell in China under a 169.3 per cent tariff regime.
"We are extremely disappointed to find our business, our partners' businesses and the Australian wine industry in this position," Mr Ford said of the tariff move.
"We're spending our time planning on this is what we know now, and what we do with our business over the next three (to) five years based on this being in place," he told The Age and the Herald.
While it was widely expected China would introduce a tariff as it investigates whether Australian wine was dumped in China at discounted prices, the scale of the tariffs announced last week have been a savage blow to the Australian industry.
Thousands of companies exported wine from Australia to China in 2019, our biggest export market, but they now face a tariff slug on their exports to China of between 107.1 per cent and 212.1 per cent.
Mr Ford, whose company is behind famous labels including Penfolds, Wolf Blass and Coldstream Hills, said Treasury aimed to boost its luxury wine sales elsewhere including mature markets where it already had a strong presence and there was "unmet demand", and fast-growing Asian markets.
"Short, medium and long term our intention is very clearly on building our business outside of China over the next period of time," he said.
"The real exciting growth and the future growth will come from the US, and from markets in south east Asia such as Malaysia, Thailand…those markets are all growing significantly from a percentage point of view," he said.
China is a lucrative market for ASX-listed Treasury, generating about two-thirds of its Asian earnings in 2019-20, equal to about 30 per cent of total earnings. Last financial year Treasury delivered EBITS (earnings before interest, tax and the agricultural accounting standard SGARA) of $533.5 million.
Analysts now expect Treasury's profits to be significantly dented in the short term, with Morgans analyst Belinda Moore saying it would take at least three years for the company's mitigating strategies to repair earnings, a pitch some investors might find too hard to stomach.
"Management's working very hard behind the scenes with mitigating strategies, but in the short to medium term, it's going to severely impact their earnings. And for some, the investment case will just become too hard," she said. "You've got to feel extremely sorry for them."
Shares in Treasury Wines fell 7.2 per cent on Monday to $8.56, continuing a 17.5 per cent drop since China announced the tariffs on Friday.
Mr Ford, who took over as chief executive from Michael Clarke in the middle of the year, said Treasury would not slash prices.
"We are not going to discount price to move volume. We don't believe we need to do that," he said.
China's decision to introduce a tariff on Australian wine in containers of two litres or less is the latest in a string of moves it has introduced this year that have hurt exports of Australian agricultural goods, with beef, barley, timber and seafood already hit.
In its current form the wine measure, described as "provisional", can remain in place until August 28 next year. Whether it becomes permanent depends on the outcome of China's "anti-dumping" investigation.
"TWE expects that while the provisional measure announced remains in place, demand for its portfolio in China will be extremely limited," Treasury told the ASX on Monday.
Treasury, Australia's biggest winemaker, said it would cut its global costs of doing business, including overhead and supply costs, and reduce its future vintage intakes to soften the impact on its earnings.
Relations between Australia and China soured further on Monday after China's Foreign Ministry shared a doctored image condemning alleged Australian war crimes on Twitter. Prime Minister Scott Morrison said the image was"truly offensive" and "repugnant" and demanded it be removed.
Business Briefing
Start the day with major stories, exclusive coverage and expert opinion from our leading business journalists delivered to your inbox. Sign up for the Herald's here and The Age's here.
Source: Thanks smh.com