Qantas eyes smaller crew on SYD-MEL route as part of $1b cost-cutting drive
Qantas is looking to permanently reduce the number of cabin crew on the lucrative Sydney to Melbourne route as it unleashes a massive cost-cutting drive to help it recover from the COVID-19 pandemic.
After the health crisis forced it to ground most of its fleet for the best part of 2020, the airline is trying to cut $1 billion from its annual cost base to help repair the damage inflicted on its balance sheet.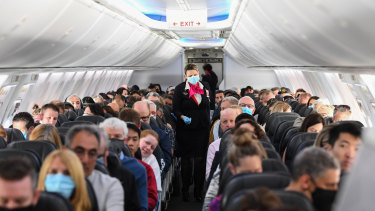 Qantas – which owns the budget carrier Jetstar – is carrying out an exhaustive search for ways to save cash in all parts of its operations. It has already announced plans to lay off 8500 workers, or close to a third of its workforce since the start of the pandemic including by outsourcing all ground handling work.
In further cost cutting, this masthead can reveal Qantas is also the process of removing one of the two portable emergency beacons from each of its Boeing 737s and Airbus A330s, which will deliver a minor saving from maintenance and streamlined pre-flight checks.
Australian safety regulation only requires airlines to carry one portable Emergency Locator Transmitter in addition to the one that is installed on each aircraft, which crew are trained to take from the aircraft in an emergency evacuation.
On Friday night Qantas operated its first flight from Sydney to Melbourne using four cabin crew instead of five, the company confirmed, and will use a reduced crew permanently if it is satisfied service remains acceptable on its busiest and most profitable route.
"Given the challenges we face, and that the whole industry faces, we're naturally looking at smarter ways to manage costs," a Qantas spokesman said.
"But we'll never compromise on safety and we'll always be a premium airline offering a high level of service. In areas where we're upgrading technology, we'll hopefully be able to offer a smoother, faster experience."
Qantas already uses four-person crews on all domestic Boeing 737s services except between Sydney and Melbourne, Coolangatta and Canberra, where it has needed five crew members to ensure they can serve food and drink to all passengers during the short flight time.
Sacrificing one cabin crew means there will be only one crew member at the departure gate to scan boarding passes rather than two, but Qantas says a ground crew member can help scan passes if there is a bottleneck.
The airline operated four-person crews on Sydney-Melbourne in June after it suspended serving alcohol and limited its food service to reduce contact between crew and passengers, but Friday was the start of a trial using the reduced crew numbers while serving food and drinks.
Qantas boss Alan Joyce said last week it would take a long time for the group to repair its balance sheet after taking on $1.5 billion in new debt and losing $11 billion in revenue this financial year alone. The group is trying to save $15 billion over the next three years through cost cutting and lower its annual cost base by $1 billion from 2023 onwards.
Mr Joyce said in a trading update that Qantas will run at a "significant" loss this year but that should stop burning cash in the second half, excluding redundancy payments.
However domestic travel demand is bouncing back faster than expected as states reopen their borders, with Qantas expecting to fly at 70 per cent of its pre-pandemic domestic capacity this month and for that to grow to 80 per cent in early 2021.
Qantas last month decided to permanently close its service and sales desks at all airports and lounges in another cost-cutting measure.
Business Briefing
Start the day with major stories, exclusive coverage and expert opinion from our leading business journalists delivered to your inbox. Sign up here.
Source: Thanks smh.com