APRA boss calls for transparency over BoQ bonuses
The prudential regulator has criticised the Bank of Queensland's transparency over executive bonuses as proxy firms warn the bank could face a protest vote unless it discloses more information on how pay is calculated.
At the bank's annual general on Tuesday, Australian Prudential Regulation Authority deputy chair John Lonsdale said despite improvements by BoQ in recent years, it was difficult for shareholders to get a "clear view" of how performance bonuses are determined.
Mr Lonsdale said banks have "antiquated and simplistic" disclosure policies that mask legacy issues that cause "the most reputational damage". "Will the board publish much more granular metrics transparent to all shareholders to ensure accountability?" Mr Lonsdale said.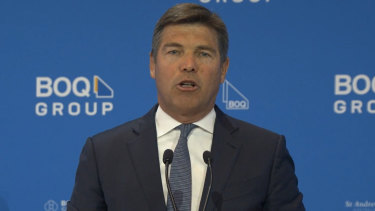 APRA abandoned plans last month to make it compulsory for half of bankers' bonuses to be tied to non-financial measures, such as corporate culture and governance, after push-back from the industry.
BoQ chair Patrick Allaway – who also sits on the board of Nine, the owner of this masthead – said non-financial metrics had been given a 60 per cent weighting and were a "very, very important" part of the bank's remuneration framework.
"We are concerned about disclosing the key metrics at the start of the year for the business because that information would potentially give an outlook statement and forecast for the business in a very, very uncertain environment," Mr Allaway said, before adding the board would consider providing additional information at the end of this year.
More than 95 per cent of shareholders approved the lender's remuneration report but key proxy firms, including ISS and Australian Shareholders Association, suggested they could protest executive pay next year if transparency was not boosted.
ISS said the bank had given excessive weighting to non-financial measures and this was combined with an "absence of adequate disclosure of any specific and quantified performance measures".
"Shareholders will require full transparency in the FY21 remuneration report to justify STI [short-term incentive] bonuses," ISS's report said. "And failure by the board to address continued concerns for poor STI disclosure may cause shareholders to reconsider their support for the remuneration report."
ASA, the proxy firm for retail investors, said the bank's annual report was "even more opaque than last year's". "If next year's remuneration report continues in the direction foreshadowed this year we will find it difficult to support," ASA said.
ASA policy manager Fiona Balzer said BoQ shareholders were "long suffering" and criticised the board's decision to award bonuses while dividends were scaled back by 82 per cent and the bank's share price has fallen by more than 50 per cent over the past five years.
"The bank's financials have been in a downward trend for several years," Ms Balzer said, adding bonuses were withheld last year despite higher levels of profit being reported.
"How can you justify any payment of STI bonuses under these circumstances?"
BoQ chief executive George Frazis said the bank's results were promising once the impact of COVID-19 was stripped away and pointed to progress made on the bank's strategy to grow its loan book.
"Business lending continues to grow in a declining market and that creates long-term value for our shareholders," Mr Frazis said. "All the ingredients are in place for us to deliver strong growth over the short to medium-term."
BoQ was one of the hardest-hit banks by the pandemic in terms of loan deferrals, with 22 per cent of business loans and 11.7 per cent of home loan repayments paused in June. These deferrals have now shrunk to 2.3 per cent and 2 per cent respectively, worth a total of $1.3 billion.
BoQ's share price dipped on open and fell by 1.14 per cent during early afternoon trade at $7.79 per share.
Business Briefing
Start the day with major stories, exclusive coverage and expert opinion from our leading business journalists delivered to your inbox. Sign up here.
Source: Thanks smh.com