Woodside CEO Coleman to retire after torrid year for oil and gas
Woodside Petroleum chief executive Peter Coleman has announced he will retire next year after serving more than 10 years at the helm of the nation's largest oil and and gas producer.
Peter Coleman notified Woodside's board of directors on Tuesday that the second half of 2021 was the right time for him to stand down and for the company's leadership to transition.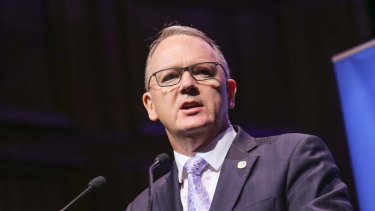 Mr Coleman said the company was well-positioned for the future after taking difficult decisions to protect its operations and growth plans amid what he has previously described as the worst oil and gas market conditions in his 40-year career.
"I am extremely proud of how our Woodside team has managed the uncertainty and is on track to deliver record production and exceptional safety performance," Mr Coleman said.
Woodside Petroleum and the nation's other producers of oil and liquefied natural gas (LNG) have been hit hard this year by coronavirus restrictions which have gutted energy demand and sent benchmark oil and LNG prices crashing to multi-year lows, from about $US60 a barrel at the start of the year to as low as $US19.
Mr Coleman said retiring in 2021 would ensure continuity to support the company's investment decision in the $17 billion Scarborough project off the coast of Western Australia, while ensuring Woodside's international projects in Senegal and Myanmar maintained their "positive momentum".
"I will miss being part of the Woodside team," Mr Coleman said. "The company has been reset with a strong platform for the future, with the next stage of our journey ready for a new CEO to take the required ownership of Woodside's significant growth projects."
Woodside on Tuesday told investors it had commenced an internal and external search for the company's next CEO.
The company's chairman, Richard Goyder, said Mr Coleman had been an outstanding CEO. "His focus on safety, base business and operational excellence have crafted a resilient and future-focused organisation," he said. "His commitment to prudent capital management and maintaining a strong balance sheet and liquidity has complemented his track-record for operational excellence."
Business Briefing
Start the day with major stories, exclusive coverage and expert opinion from our leading business journalists delivered to your inbox. Sign up here.
Source: Thanks smh.com