Fortescue's message on iron ore: Keep calm and party on
For investors riding iron ore's monster price wave and for the federal and West Australian governments as massive beneficiaries of the metal's stellar run, the bullish market outlook from Andrew Forrest's Fortescue must have caused a rush of adrenaline.
As the price of iron ore is now taking on a hockey stick trajectory and testing levels of $US150 a tonne, the biggest question centres around the buoyant market's sustainability.
Fortescue doesn't make actual forecasts for the price of iron ore. It's just that when it looks into its supply/demand crystal ball it doesn't see any factors that would weaken the current price – a price that hasn't been this high since 2012.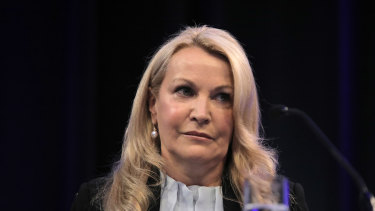 It seems the stars have aligned for Australia's iron ore producers, and the thrust of the presentation from Fortescue's director of marketing and sales, Danny Goeman, was that the market dynamics remain strong.
For the current price to be sustained, or even increase, China's demand needs to remain robust and Fortescue seems pretty confident in that regard.
China is "well on track to produce 1 million tonnes of crude steel production in 2020", having already hit the 874 million tonne mark in the 10 months to October, it said. This would represent a 5.5 per cent lift on 2019 levels.
The news on the ground over just the past couple of days from Fortescue's Chinese customers is that the ongoing strength in demand will lead to a further drawing down in Chinese inventory levels.
This said, Goeman's confidence comes courtesy of the Chinese government's economic stimulus and improved consumer sentiment. The result of China priming the economic pump is investment in infrastructure and property, the latter of which is up 12 per cent in value year-on-year.
The additional demand boost that will play into the equation in 2021 is the recovery in other steel markets including India, Japan and South Korea whose economies were hit in 2020 by COVID-19.
And Goeman doesn't see competition from scrap metal as the serious threat which others have portrayed.
The news on the ground from Fortescue's Chinese customers is that the ongoing strength in demand will lead to a further drawing down in Chinese inventory levels.
Nor does Fortescue hold with industry consensus that there is a threat to the medium-term price from a boost in supply – particularly from Brazil. The constrained supply from Brazil has been one of the biggest factors contributing to iron ore's current price bulge.
"Our view remains that considerable challenges and uncertainties persist in bringing on additional supply (from Brazil)," Goeman told investors. "We envisage significant ongoing challenges associated with expansion of Brazilian supply particularly considering the number of projects requiring completion and approvals."
Fortescue also doesn't see new slated supply from Australian mines flooding the market. Of the numerous iron ore projects forecast to be completed in Australia over the next five years, Goeman said many were sustaining existing production volumes, thus Fortescue doesn't see any material additional supply emerging.
For shareholders in Fortescue, 2020 has been the year to remember. As Australia's only large-play iron ore stock it has been favoured by investors looking to ride the iron ore boom.
Its share price picked up 1.1 per cent on Wednesday to $21.70 — a long way from the year low of $8.20.
Fortescue's chief executive Elizabeth Gaines understands only too well that her company's relationship with its Chinese customers and with the Chinese government needs to be delicately navigated to ensure it will continue to share in the spoils of the country's surging steel production.
Gaines noted on Wednesday that Fortescue employs a multi-faceted approach to its engagement with customers. It also has two Chinese directors on its board and a large Chinese shareholder on its register.
Indeed, Forrest has spent many years courting and nourishing relationships in China, even in the face of the deteriorating and now toxic relationship between the two governments.
The prevailing wisdom is that our major iron ore producers won't get caught up in the trade wars because China's thirst for iron ore cannot be satisfied from alternative sources.
But FMG's belt and braces approach to China is, however, wise.
Market Recap
A concise wrap of the day on the markets, breaking business news and expert opinion delivered to your inbox each afternoon. Sign up for the Herald's here and The Age's here.
Source: Thanks smh.com