No plans for local Disney programs despite major streaming push
US entertainment giant Disney has no plans to commission local television programs or films as it launches new products in the Australian market, despite a federal government push to create new content laws for global streaming services.
Pay TV company Foxtel and subscription streaming service Stan are expected to come under further pressure after Disney announced plans on Friday to launch Star, a new brand which will sit on the Disney+ app from February and will include shows from 21st Century Fox and FX Studios.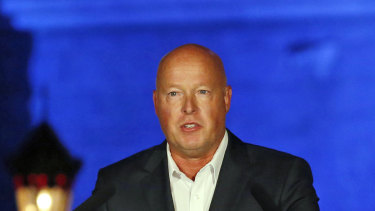 Both Foxtel and Stan currently have content deals in place with FX Studios and 21st Century Fox, but are expected to lose this content to Disney+ once their current arrangements expire. This means FX Studios and 21st Century Fox films and programs will sit inside the Disney+ app along with programs produced by Pixar, Marvel, Star Wars and National Geographic.
As global players take the content that they own back onto their own services, it reduces the amount of films and shows Stan and Foxtel can offer users in the long term. Stan announced a major local content push in an attempt to move away from its reliance on international entertainment giants earlier this year and to continue to build its 2.2 million subscriber base. Foxtel signed a multi-million dollar a year deal with HBO Max to secure content for pay TV subscribers users of streaming service Binge.
Industry sources familiar with plans for global streaming services in Australia said Disney was planning to fulfil any local content obligations by seeking credit for films they make on local soil rather than by making new programs. Disney leases local production locations such Sydney's Fox Studios to make parts of international films such as Marvel Studios' Thor: Love and Thunder and Shang-Chi And The Legend Of The Ten Rings and wants this investment to count towards any content rules put in place. It may also consider counting the licences of local content, such as ABC show Bluey, as a way to meet any proposed guidelines, but does not intend to commission local programs. The main reason for this, according to those familiar with Disney's strategy, is that local content is not part of its global business model. Disney declined to comment.
In an attempt to level the regulatory playing field, the federal government released a green paper in late November which proposed creating a law that requires streaming services to invest a percentage of their Australian revenue on local content, either in the form of commissions, co-productions or acquisitions of content. The content obligation would not apply to local streaming service Stan, which is part of a group that has a broadcasting licence and is already subject to rules. Stan is owned by Nine Entertainment Co, the owner of this masthead.
Disney's plans could change with the launch of Star locally, but are in stark contrast to the strategy of other services such as Amazon Prime and Netflix. Amazon Prime is expected to substantially increase the amount it spends commissioning local productions. It has commissioned six local series since 2019 and has a head of content Australia, Tyler Bern, who is based in LA. Amazon was approached for comment.
Netflix, who hired its first local head of original content earlier this year and has about 5.3 million local subscribers, said it is already a significant commissioner of Australian programming.
"We're the only international streamer with a local content team on the ground, and we'll continue to invest aggressively," a Netflix spokesperson said. "We continue to support the adoption of an appropriate policy framework that formalises our commitment to give certainty on future investment levels in Australian content, and look forward to consulting with the government and industry."
Source: Thanks smh.com