'Lost all sense of perspective': Fears of another Wall Street bubble
Lofty valuations for tech companies are leading the industry into bubble territory not seen since the late Nineties, experts have claimed. The warning came after Airbnb shares more than doubled in their trading debut on Thursday (US time), propelling the home rental company to about a $US100 billion ($132 billion) valuation in one of the biggest ever first-day rallies.
In the same week, food delivery company DoorDash's market debut saw its shares soar to $US189 in New York on Wednesday after being priced at just $US102 a day earlier. The surge valued the company at $US72 billion.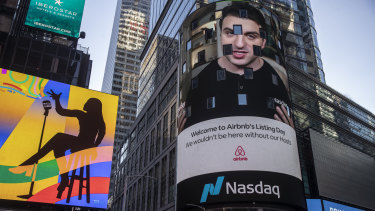 Meanwhile, Snowflake, a cloud storage computing firm, saw its valuation surge to $US116 billion, with its shares rising by 242 per cent since it floated.
"This speaks to a market that has clearly lost all sense of perspective," said Michael Hewson, an analyst at CMC Markets. "I am staying well clear until there is some rationality," added Richard Windsor, founder of research company Radio Free Mobile. "Valuations are being ignored and instead being supported by hype."
According to data compiled by University of Florida professor Jay Ritter, Airbnb was the 19th company in 2020 to double in its first day of trading, the most since 2000. His analysis also shows this year's average first-day return is 37 per cent, compared with 56 per cent in 2000. Together, Airbnb and DoorDash propelled IPO volumes to all-time highs for December.
More than $US300 billion is expected to be raised globally through IPOs in what could eclipse a peak last seen in 2007.
The flurry of tech firms will help this year's haul reach at least $US278 billion, according to recent figures from Dealogic. Airbnb's monstrous float means the final-year figure will likely push past the $US298 billion raised in 2007.
"We haven't seen this level of IPO pricing variability in a long time, perhaps since 1999 and 2000," added Patrick Corrigan, a Notre Dame Law School associate professor.
Simon Edelsten, a fund manager at Artemis, said there were sure signs of a bubble. Several factors were driving this, he said, but the most pertinent was one that mirrored the dotcom bubble. "I am nervous. We are in a market where the new shiny thing is priced higher than proven companies, which is what we saw happen in 2000.
"The accounting being used needs adjusting. When companies don't produce profits, people value them on sales, which is not simple."
Edelsten said investors valuing stocks such as Airbnb, and even electric vehicle maker Tesla whose share price has grown five-fold this year, were assuming current sales growth would continue exponentially.
"The opportunities are exciting but extrapolating current conditions on the idea these companies will face no competition is hazardous," he added.
Ally McKinnon, manager of the Scottish Investment Trust, said present-day IPO valuations were more unjustifiable than at the start of the century. "At least in the dotcom era they were new companies and it was exciting technology. But Airbnb has had 12 years of trading and hasn't made any money.
"When you get IPOs like this, it is a complete change. Venture capitalists fell over themselves to invest, but now need an exit after funding loss-making companies. This IPO passes the bag to the public markets."
Many believe the market is being driven by retail investors, causing the level of sophistication in trading to plummet. Apps such as Robinhood, which have increased in popularity in the past few years, allow individual investors to buy a fraction of a single share, lowering the barrier to entry.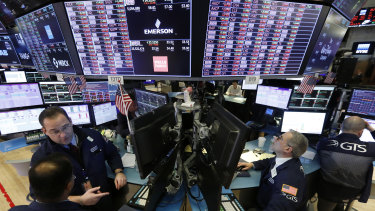 "It seems like a stretch to say that fractional share programmes arriving at major retail brokerages and IPOs going stratospheric at the open is just a coincidence," said Max Gokhman, head of asset allocation at Pacific Life Fund Advisors.
There have been 420 IPOs on US markets so far this year, some 88 per cent more than at this point a year earlier, according to StockAnalysis.com.
There are still more market debuts to come. Video-game company Roblox, instalment loans provider Affirm Holdings and ContextLogic, the parent of online discount retailer Wish, are all set to go public. "Time will tell whether the current valuation of Airbnb is sustainable, or even realistic (it isn't)," said Hewson.
"But unless the business can display anything like a level of long-term profitability, the froth could well come off quite quickly."
Others are more sanguine. Taymour Tamaddon, of T Rowe Price, said the model operated by the likes of Airbnb and DoorDash had staying power, unlike the "more flash than substance" listings in 2000. "The market's recent excesses do not compare to the dotcom bust. The technology-driven changes taking place throughout the economy are widely acknowledged," he added.
Telegraph, London
Market Recap
A concise wrap of the day on the markets, breaking business news and expert opinion delivered to your inbox each afternoon. Sign up here.
Source: Thanks smh.com