Neobank Xinja to close accounts, return banking licence
Neobank Xinja has announced it will close all bank accounts, refund customer savings and hand back its banking licence after what has been a challenging year for the company.
The fintech will now give customers seven days notice before closing all high interest Stash accounts, after it banned new customers from joining in March. Accounts will no longer earn interest effective immediately, and cards and payment facilities will be terminated from January 15.
Xinja has blamed COVID-19 and a tough capital raising environment for the decision to exit banking, and said it will refocus the business on its US share trading platform "should circumstances allow".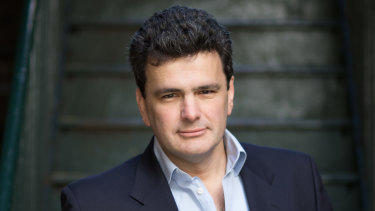 "Obviously, this has been an incredibly tough call as all of us here wanted to be able to offer you a new, amazing way to bank," Xinja's chief executive Eric Wilson told customers via email.
"We'd like to reassure you that your funds are completely safe, and you'll be able to easily access your funds and have ample time to transfer them to another account."
Mr Wilson told customers the Australian Prudential Regulation Authority was "closely monitoring" the return of funds to customers "to ensure everything goes smoothly and safely".
"Of course, we are also covered by the government guarantee (Financial Claims Scheme)," Xinja said. "So, there is absolutely no need to worry. Just hop onto your app and transfer your funds out to another bank."
The neobank was marketed to Millennials, offering high interest deposit accounts and glow-in-the-dark bank cards but has been unable to launch loan products to offset the cash burn.
Xinja held two equity raisings earlier in the year, which sought to prevent staff layoffs and safeguard the company's balance sheet. The neobank's auditors said last month Xinja was "highly dependent on raising additional capital" to fund its development and maintain capital above prudential requirements.
Mr Wilson told customers it was an "incredibly tough call" to exiting banking but was the "best thing" for the company.
"I'd also like to say a huge thank you for opening a Xinja Bank Account in the first place, and I'm gutted not to be able to continue this service for you, but I hope you might consider using us if we launch new services next year," Mr Wilson said.
APRA said it will ensure all funds are returned to Xinja's depositors in an orderly and timely manner. "Xinja's decision to exit the banking industry and pursue other business opportunities is a commercial decision for Xinja."
KPMG partner and fintech specialist Ian Pollari said the banking sector had been hit with a challenging year – with record low interest rates and subdued credit demand – and Xinja's closure should not be seen as a "death knell" for fintechs.
"The reality is, the world has seen traditional banks come and go. Why would a neobank be immune from those same issues?
"If we want innovative sectors or economies, there will be some failure. It's important we reflect and learn but I fear that will be lost in the sea of 'we told you so'."
Mr Pollari said there had been a "well trodden path globally" of neobanks aggressively growing a customer base by offering low cost products, building brand recognition and then expanding into other products and services.
However, Mr Pollari said neobanks that have been able to become profitable have focused on both sides of the balance sheet – growing customers and loan books simultaneously – which is even more important during this challenging period.
"It's very hard to sustain the economics of business models with a biased focus on the liability side of the balance sheet," he said. "Clearly it's a really disappointing outcome, but it's important for the Australian financial system to learn and individual players to consider their strategies and business models."
Market Recap
A concise wrap of the day on the markets, breaking business news and expert opinion delivered to your inbox each afternoon. Sign up here.
Source: Thanks smh.com