The Victorian government gatecrashes Crown's investor reassurance tour
For the past couple of weeks, Crown chair Helen Coonan and its chief executive Ken Barton have been conducting an investor tour to reassure shareholders they are a governance duo that is on the reform ticket.
Their message was that they recognised there will be plenty of changes needed to ensure Crown is regulation match-fit to hold a licence in Sydney. They told shareholders there are three key areas of focus that will come out of the NSW regulator ILGA's commission of inquiry report – the influence of Crown's 36 per cent shareholder, James Packer, the prospect of board and management changes and compliance with risk on anti-money laundering measures.
Some of the meetings were also attended by Antonia Korsanos – the Crown director most recently appointed to the board and the one least tarnished by Crown's conduct. She is also considered the company's highest credentialled director.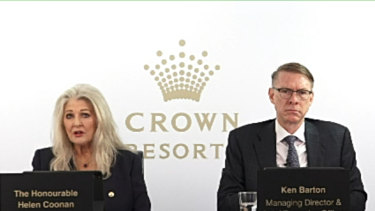 For their part, shareholders – clearly aware that the report by commissioner Patricia Bergin will be brutal – haven't been sitting on their hands. Some have been discussing the potential of a merger of Crown and its Sydney rival The Star in the event that Crown loses its Sydney licence to run a casino.
It is still considered an outside bet, but there is no harm in having a contingency plan.
One major and long time shareholder, Perpetual, has been selling stock and notified the ASX this week that its stake in the casino operator has fallen from 9.3 per cent to 8.2 per cent.
Having listened to the soothing explanations from Coonan and Barton, shareholders may have been jolted to receive the news from the Victorian state government on Wednesday night that it now plans to appoint a special commissioner to the Victorian regulator, the VCGLR, to conduct its own inquiry into Crown Melbourne's suitability to hold a casino licence.
What choice did the Daniel Andrews government have?
For months the Victorian government and its gaming regulator have seen the Crown Resorts regulatory train hurtling towards them. On Wednesday, they took a small step to get themselves off the track.
In six weeks the damning report from the Crown inquiry commissioned by the NSW gaming regulator will both show up its Victorian counterpart as being a hopelessly captive regulator and highlight the Victorian government's avarice in prioritising gaming tax revenue ahead of the risks of money laundering.
For months the Victorian government and its gaming regulator have seen the Crown Resorts regulatory train hurtling towards them. On Wednesday, they took a small step to get themselves off the track.
It is highly embarrassing for Victoria, which ticked off on its 2018 regular review into Crown's licence.
This is despite numerous media reports that questioned Crown's junket partners' links to organised crime.
The Victorian government, which has said little about the extraordinary revelations during the Commission hearings, seems to have come to the conclusion that saying nothing is more politically damaging.
Last month Crown finally admitted it was probable money was being laundered through its two shell company bank accounts.
Indeed, ILGA's inquiry which was launched in the wake of allegations made by The Sydney Morning Herald, The Age and Nine, focused on the activities of Crown casinos in Melbourne and Perth.
Crown's share price, which fell a few cents on Thursday, suggests that investors are not expecting the company to lose any of its state-based licences. But shares are priced for some kind of risk according to one of the company's major shareholders, Investors Mutual's director of investments Anton Tagliaferro.
He said most investors were expecting a harsh report from Bergin.
Most gaming analysts are factoring in the opening of Crown Sydney some time in 2021 and that its contribution to the company's earnings before interest, tax, depreciation and amortisation will be as much as $150 million in a full year.
This suggests that they are expecting some return of the Chinese VIP market – an outcome which now looks pretty optimistic.
To the extent Asian VIP players re-enter the market, they will be subject to much greater regulatory scrutiny and the junket operators that make their arrangements will almost certainly be curtailed or required to have state licences.
Market Recap
A concise wrap of the day on the markets, breaking business news and expert opinion delivered to your inbox each afternoon. Sign up for the Herald's here and The Age's here.
Source: Thanks smh.com