QBE boss 'disappointed' as adverse conditions pummel its books
QBE has flagged a US$1.5 billion ($1.97 billion) loss for the year, with the global insurance giant's books buffeted by higher-than-expected claims from catastrophic weather events and the coronavirus crisis.
QBE interim chief executive Richard Pryce said he was "very disappointed" by the figures that caused the company's share price to plummet over 12 per cent to $8.73 on Friday. He added that it was necessary to update the market as the insurer tackled the worst hurricane season on record and ballooning reinsurance costs.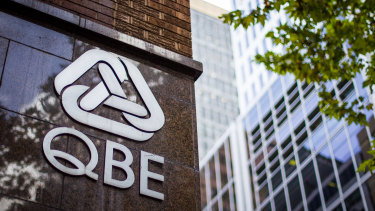 "The industry is facing a combination of adverse factors that it has not experienced for decades and that's even before you consider the impacts of COVID19," Mr Pryce said.
QBE reported its catastrophic weather claims are expected to reach $680 million, which is $130 million above the group's annual allowance, due to America's record-breaking hurricane season and Californian bushfires that decimated winemakers in the Napa Valley.
QBE did not update its $600 million provision for COVID-19 claims, but noted $100 million in additional claims across trade credit, lenders mortgage insurance (LMI) and business interruption claims.
Mr Singh said the impact of the economic downturn on the Australian property market had been less severe than initially anticipated, however it was too early to "declare victory" over LMI risk.
"We will recognise pre-emptive LMI charge to reflect expected increase in delinquencies over the next 12-24 months as mortgage holidays come to an end and as we reach inevitable fiscal cliffs," he said.
Morningstar analyst Nathan Zaia said the size of QBE's expected loss was "a lot larger" than he was expecting. "It just goes to show how hard it is to forecast these CAT [catastrophic weather] losses with the frequency of smaller events and then those large events as well.
"It's proving impossible to have adequate allowances and reinsurance for them at the moment."
QBE has also suffered lower investment returns due to the historically low interest rate environment that Mr Pryce described as contributing to "almost non-existent investment yields".
Mr Zaia said the investment environment is almost unprecedented for insurers, and while QBE had been proactive in managing its expenses "it all comes to nothing in the end when you have these blowouts".
Despite the challenges, Mr Pryce said he "did not have a crystal ball" but felt confident in the group's fundamentals and would not authorise a change in strategy next year.
Market Recap
A concise wrap of the day on the markets, breaking business news and expert opinion delivered to your inbox each afternoon. Sign up here.
Source: Thanks smh.com