'Industry under pressure': Private health premium rise hits 20-yr low
Australian private health insurers and hospitals will need to cut more costs to protect profit margins after the federal government on Monday approved the lowest increases to insurance premiums in 20 years.
Private health insurance premiums will rise by an average of 2.74 per cent on April 1 next year, Health Minister Greg Hunt said, which follows increases of 2.92 per cent this year and 3.25 per cent in 2019.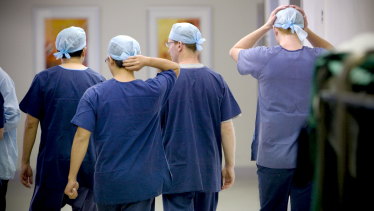 Medibank and BUPA, which together cover just over half of all insured Australians, will increase their fees above the industry average at 3.25 per cent and 3.21 per cent respectively, while the ASX-listed NIB will rise 4.36 per cent.
Medibank shares closed 3.75 per cent higher on the news at $3.04 – the highest they have traded since June – while the ASX-listed Nib's jumped 3.2 per cent to an 11-month high of $5.80, after the premium hikes came in slightly ahead of market expectations.
Citi analyst John Deakin-Bell said Monday's announcement confirmed margins in the private healthcare industry will remain under pressure as Australia's ageing population pushes up the costs of hospital claims by at least 3 per cent a year.
"You're going to need to find some further cost savings so margins don't decline, that's really the bottom line for the insurance industry," he said.
Hospital operators such as ASX-listed Ramsay Health Care will get around half the premium increase while facing costs growing 1 to 1.5 per cent a year, Mr Deakin-Bell said, meaning they will also need to find cost savings to maintain margins.
"So the whole industry remains under pressure," he said. "There's very little likelihood that margins will expand for the insurers or for the [hospital] operators whilst pricing is of this order."
The growing gulf between costs and revenue, and an exodus of younger members, has raised questions about the private health sector's sustainability and prompted a suite of federal government reforms designed to make it more affordable and attractive to members.
While the premium jumps drove a rally in the listed insurers' shares on Monday, Macquarie analyst Andrew Buncombe said the government-approved hikes did not translate to bigger margins. That was because they operated on a "cost-plus" basis, with a higher-than-expected premium growth indicating higher-than-expected claims costs.
Mr Buncombe said in a note that both Medibank and Nib's premium revenue had grown below their premium increases over the past five years because of a changing mix of customer demographics, products and brands, and because members were downgrading to cheaper products.
Medibank and Nib were likely to continue to outperform industry trends on claims and margins, Mr Buncombe said, however with industry net margins falling to about 2.1 per cent last quarter "the need for regulatory intervention continues to inch closer".
Medibank chief customer officer David Koczkar said his fund had done what it could to keep its premium rise to the lowest in 20 years.
"Despite the fact that we continue to pay more for health costs, because as a community we are getting older and going to hospital more, Medibank is working hard to ensure that private health insurance remains affordable," Mr Koczkar said.
Nib managing director Mark Fitzgibbon said his fund's products remained competitive and affordable, despite fees growing faster than the industry average, because they started off on a lower base.
"Premium changes are never welcomed but the reality is that the cost of medical treatment continues to rise well above inflation," Mr Fitzgibbon said. "We're increasingly seeing members access healthcare services with health insurance a critical funding tool enabling treatment and care."
Shares in Ramsay Health Care, Australia's largest private hospital operator, closed flat at $62.50.
Market Recap
A concise wrap of the day on the markets, breaking business news and expert opinion delivered to your inbox each afternoon. Sign up here.
Source: Thanks smh.com