ASX posts healthy session as investors welcome stimulus, vaccine news
The Australian sharemarket finished its first session back from the Christmas break in positive territory, with investors buoyed by the news of the passage of the long-awaited $2.3 trillion ($3.03 trillion) COVID aid bill in the US and Britain's Brexit deal with EU.
The benchmark S&P/ASX 200 jumped as high as 6725.10 during the session but eased off to close at 6700, up 0.5 per cent or 35.50 points.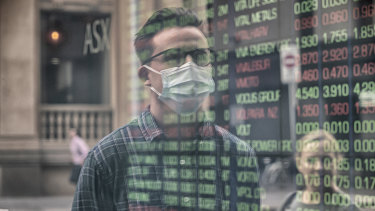 The big banks had a strong session, with Commonwealth Bank up 1 per cent, ANZ and Westpac rising 0.7 per cent respectively and NAB gaining 0.5 per cent. Meanwhile, the iron ore miners had a mixed day with Fortescue Metals Group gaining 1.5 per cent to $23.98, while BHP and Rio Tinto ended the session flat.
Bell Direct analyst Jessica Amir said the local market has welcomed the flurry of positive news from overseas.
"Coming into this session today was all about waiting to see if the US House of Reps was going to vote on the bump up in stimulus and the market was initially buoyed by that."
"The imminent UK approval of the Oxford Zeneca vaccine also gave market sentiment a boost," she said.
She added that the big share price rises for underperforming stocks like Pinnacle Investment, Ardent Leisure and Galaxy Resources on no fresh news was "purely based on the fact that there is likely to be another vaccine approved this week and fresh stimulus."
With only one full day of trading on the ASX before NYE a lot of the focus is on whether the markets will finish in positive territory for 2020. Ms Amir said the market should be able to finish the year "slightly higher".
The Healthcare and Utilities sectors were only laggards in the session, which saw tech darling Afterpay' shares hit a new record, up 5.3 per cent to close at $122.1. A2 Milk was also big mover in , with the infant formula and milk seller's shares jumping 5.8 per cent to $11.50, as investors welcomed its acquisition of New Zealand dairy company Mataura.
The deal is expected to help A2 increase its direct sales into China after its key daigou reseller channel collapsed due to COVID-19, prompting a near half-a-billion sales downgrade earlier this month.
The local oil and gas majors also had a mixed session, with crude prices dropping as the prospect of increased OPEC+ output in the face of weak demand dampened stimulus cheer.
Woodside Petroleum closed 1 per cent stronger at $22.98, however, Santos and Beach Energy slipped 0.3 per cent and 4.3 per cent respectively.
Investor sentiment was boosted as the start of the day after US and European markets muscled into into near-record territory overnight.
The S&P 500 Index, Dow Jones industrial average and Nasdaq Composite touched all-time highs after US President Donald Trump signed the COVID rescue package, having previously threatened to block the bill which restores unemployment benefits to millions of Americans.
The Dow Jones Industrial Average rose 235.6 points, or 0.78 per cent, to 30,435.47, the S&P 500 gained 36.57 points, or 0.99 per cent, to 3,739.63 and the Nasdaq Composite added 124.46 points, or 0.97 per cent, to 12,929.20.
Meanwhile, European indexes closed broadly higher, helped by more details about the European Union – United Kingdom trade deal as part of the UK's exit from the trade bloc. Germany's DAX rose 1.5 per cent, while the CAC-40 in France gained 1.2 per cent.
With AP and Reuters
Market Recap
A concise wrap of the day on the markets, breaking business news and expert opinion delivered to your inbox each afternoon. Sign up here.
Source: Thanks smh.com