Telstra earnings fall as NBN payments, COVID-19 pandemic take their toll
Telstra has reported a decline in underlying earnings of 14.2 per cent for the December half, dragged down by payments to the national broadband network and an estimated $170 million hit from the COVID-19 pandemic.
The telco giant's revenue fell 10.4 per cent to $12 billion in the half year to December 31, while net profit dipped by 2.2 per cent to $1.1 billion as chief executive Andrew Penn flagged the telco would look for external investors for its InfraCo Tower division.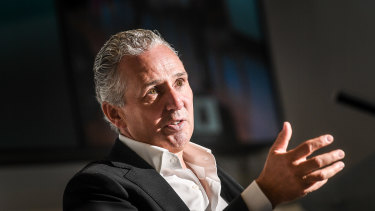 Mr Penn said the results showed Telstra was at a turning point and said management was anticipating growth in underlying EBITDA in the second half of the year.
"After a decade of disruption following the creation of the nbn, and with its rollout now declared
complete, we can clearly see the path to underlying growth ahead of us," Mr Penn said in a statement filed with the ASX on Thursday morning.
"We responded strongly to the financial headwinds created by the nbn through our T22 strategy.
[…] We have achieved an extraordinary amount and Telstra today is a leaner, more responsive, and more
agile company than it has ever been."
Underlying earnings before interest, tax, depreciation and amortisation fell by 14.2 per cent to $3.3 billion over the half, due to large payments to NBN Co and the damage from the coronavirus pandemic, which among other issues caused declines in international roaming revenues and additional expenses for customer support.
The results were within the company's own forecasts and excluding those two factors, underlying EBITDA was flat. Telstra said it expects full-year underlying EBITDA in the range of $6.6 billion to $6.9 billion.
The company will pay a fully franked dividend of 8 cents per share for the half year.
The result follows an announcement in November that Telstra's group of companies would be split into three separate entities – InfraCo Fixed, InfraCo Towers and Serve Co. Mr Penn said a search for external investors for the tower division would take place in early financial year 2022.
"We are undertaking significant verification and due diligence on our towers and property,
appointed key members of the management team and advisors, and preparation work is well
advanced to meet our timetable," he said.
Telstra shares closed at $3.17 on Wednesday, up 0.96 per cent.
More to come
Source: Thanks smh.com