Woolworths soars ahead of Coles in new year sales
Supermarket giant Woolworths appears to be comfortably outperforming rival Coles in the new year, reporting an 8 per cent jump in sales across the first seven weeks of 2021.
Woolworths told investors at its half-year result on Wednesday its sales had continued to grow strongly through the second half of fiscal 2021, following on from a bumper first-half.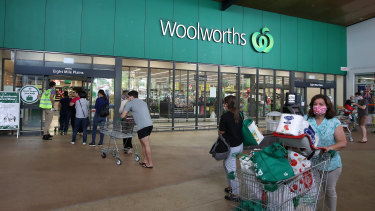 "Group sales for the first seven weeks of H2 F21 has remained strong, benefiting from continued at-home consumption, Australians not travelling abroad, and a weaker prior year where sales were impacted by bushfires on the east coast of Australia," chief executive Brad Banducci said.
Analysts were keen to see how Woolworths' sales would fare in the first few months of 2021 following Coles' lower-than-expected 3.3 per cent sales growth last week, with expectations Woolworths may be gaining market share on its long-time rival.
Woolworths has been a major beneficiary of the COVID-19 pandemic thanks to repeated bouts of panic buying as states such as Victoria and parts of New South Wales entered lockdown last year.
Sales at the retailer rose 10.6 per cent to $35.8 billion for the six months to the end of December, and earnings soared nearly 30 per cent to $1.13 billion, in line with analyst expectations.
Online sales at Woolworths' digital division nearly doubled for the period to $1.8 billion, with the segment now comprising 7.7 per cent of the retailer's total sales, well ahead of market expectations.
Total COVID-related costs of $277 million weighed down Woolworths' result, as did performance at the company's Hotels division which was hurt by lockdowns and attendance limits. Total sales fell 27.5 per cent and earnings dropped 45.4 per cent to $122 million.
The company's turnaround of struggling department store Big W also continued, with sales rising 20.1 per cent to $2.5 billion and earnings before interest and tax soaring 166 per cent to $133 million. Last year was the first time Big W reported a profit since 2015.
Woolworths had been set to de-merge or otherwise sell off its $10 billion Endeavour drinks and pubs division, but put the plans on hold due to the uncertain market conditions brought on by the virus.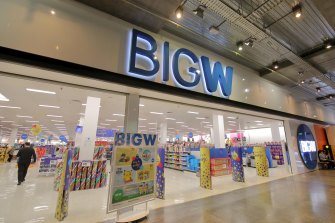 Chairman Gordon Cairns said plans were now progressing well for the demerger, with the business floating June as the most likely date for completion.
Mr Banducci said he expected sales over the rest of the financial year to moderate, and noted the business was keeping an eye on prices as government stimulus wears off.
"We haven't yet seen a material flight to value among our customers but expect value to become more important over the next few years as we emerge from a period of unprecedented stimulus. Value means different things to different customers, so it is increasingly important that we personalise value for our customers," he said.
Woolworths declared an interim dividend of 53 cents per share, up 15 per cent on the prior corresponding half and payable April 14.
More to come
Market Recap
A concise wrap of the day on the markets, breaking business news and expert opinion delivered to your inbox each afternoon. Sign up here.
Source: Thanks smh.com