'Truly special': Canva's valuation rockets to $19 billion
Australian graphic design startup Canva has hit an on paper valuation of $US15 billion ($19.7 billion) after securing a new round of funding from major US investment funds.
The latest investment of $US71 million was led by US investment firm Dragoneer, Australian venture capital firm Blackbird Ventures, Scott Farquhar and Kim Jackson's Skip Capital and US investment firm T. Rowe Price.
The milestone comes with Canva on track to turn over $US500 million this financial year, a 130 per cent increase, buoyed by the shift to remote collaboration driven by the coronavirus pandemic.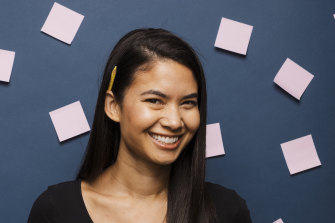 The startup has more than 55 million active users and is profitable, a rarity for fast growing technology startups.
Canva was founded by Melanie Perkins, Cliff Obrecht and Cameron Adams in 2013 and aims to allow anyone to easily design products including greeting cards, posters, websites and presentation slides.
It has raised a total of nearly $US390 million and also announced a suite of features for its presentations products including workplace templates and talking presentations to enable remote presentations.
Ms Perkins said now more than ever workplaces around the world need scalable, collaborative and easy-to-use visual communication products to empower them to achieve their goals.
"I'm incredibly proud of our rapidly growing global team as we work together to empower the world to design," she said.
Christian Jensen, partner at Dragoneer, said Canva's growth was testament to the startup's deep insight into the needs of ever evolving workplaces.
"It's incredible to see what this nimble and passionate company from Sydney's emerging tech hub has been able to achieve in such a short period of time," he said. "We believe that there are only a small handful of truly special companies being built at any given moment— and Canva is one of them."
Rick Baker, partner at Blackbird Ventures, said Canva was in a class of its own on the global stage.
"We made our first investment in Canva when it was just an idea in Mel, Cliff and Cam's minds," he said. "What's most amazing is that business is now growing faster at hundreds of millions of dollars of revenue and is set up to continue to power ahead. Canva is not just the best tech company in Australia at the moment, but one of the very best in the world."
Source: Thanks smh.com