ASX opens higher; Westpac shares rise 4.4% on strong result
Summary
The ASX200 opened 0.5% higher on Monday with banking and property shares leading the way. Westpac's stock rose 4.4% to an 18-month high on its half-year result
Westpac's half-year profits rebounded 256% from the depressed levels of 12 months ago to $3.5b, while the bank will pay a 58 cent interim dividend after axing last year's payout 
Wall Street slipped from record highs on Friday. The Dow Jones fell 0.5%, the S&P500 was down 0.7%, and the Nasdaq dropped 0.9%
Iron ore fell 1.4% to $US188.85 a tonne on Friday, while oil prices slipped about 2%. Gold was flat
Investor relief at Westpac numbers
By

Alex Druce



Westpac shares hit their highest since November 2019 in rising 4.4 per cent to $26.08 at the open, a move that added about $4 billion to the bank's value.
The Big Four lenders were all strong in early trade and – at their respective peaks – added a combined $8.4 billion to the ASX200.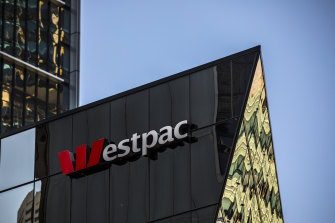 Commonwealth Bank was last 0.9 per cent ahead at $89.84, NAB was 1.8 per cent ahead at $27.14, and ANZ rose 0.9 per cent to $29.
The wider financial sector was up 1.3 per cent and dragging the market higher.
Westpac is now leading its major rivals for gains over the past 12 months, having previously underperformed after a string of regulatory mishaps.
Shares in the bank fell to a 17-year low of $13.47 at the nadir of last year's coronavirus pandemic crash, but had already taken a hammering after it was raked over the coals for failing to adequately report millions of transactions, some allegedly linked to child exploitation.
Senior portfolio manager at Plato Investment Dr Peter Gardner said Westpac's results this morning supported the notion that Australian banks have navigated the COVID-19 crisis exceptionally well.
"Now we think their Australian investors, particularly the mums, dads and retirees, can breathe a sigh of relief," Dr Gardner said.
"Westpac's results and the imminent results from its banking peers should signal a major turning point for dividends.
Dr Gardner said significant write back of provisions by Westpac is something investors should see repeated across the board.
"And while the massive cash earnings growth comes from a low base, it's certainly encouraging for the sector as a whole," he said.
"The outlook for income investors looks remarkably bright, especially when you consider how things were looking just six months ago.
"While income from cash-backed assets continues to languish, fortunately we are in the midst of a major turning point for dividend income, buoyed by the strong recovery of financials and also the continued strength of our major miners."
Electric scooter shares go flat
By

Lucy Battersby



Shares in electric scooter and motorcycle manufacturer Vmoto are flat today at 44¢ despite the company reporting a solid first quarter update. Sales are up 42 per cent on the same period in 2020 and up 54 per cent on the first quarter of 2019.
The Perth-based company has no debt and nearly $16 million in cash and a strong order book.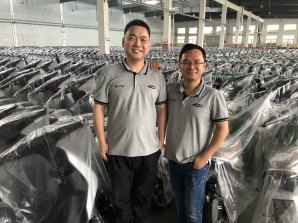 Vmoto sold 5,869 motorcycles during the three-month period and currently has orders for 10,700, including a substantial order for electric mopeds from the Greenmo Group, which runs GO Sharing in Europe.
Vmoto told shareholders it now supplies seven ride-sharing operators and is in "advanced discussions" with 15 more. It also supplies 13 delivery driver operations. However, a distribution agreement with India's Bird Group has been put on hold "until such time as the COVID-19 pandemic situation improves in India".
"As the COVID-19 situation continues to evolve around the world, especially in India, the board and management remain in continuous discussion and preparedness, should the implementation of a revised strategy be required," the company told shareholders.
"However, having ended the 2020 financial year in a strong operational and financial position following numerous commercial achievements, the company is confident in the strength of its global growth strategy and therefore, expects similar levels of growth to be delivered for the 2021 financial year."
The shares are tightly held with an average of only 700,000 changing hands every day out of 278 million on issue.
Banking shares help ASX move higher
By

Alex Druce



The ASX200 opened 0.5 per cent higher on Monday with banking and property shares leading the way.
Westpac's stock was last up 4 per cent at $25.98 and at its highest since November 2019, following a strong half-year result.
Westpac's half-year profits rebounded 256 per cent from the depressed levels of a year ago to $3.5 billion, as the lender also lifted its dividend and announced a major plan to slash its cost base.
The wider ASX200 was last at 7058.4.
'Not as easy as it sounds': Warren Buffett's warning to novice investors in wake of GameStop surge
By

Josh Funk



Billionaire Warren Buffett warned people not to think investing is an easy way to make a fortune as he answered a variety of questions at Berkshire Hathaway's annual meeting.
Buffett said it can be tough to pick the long-term winners. He pointed out that in 1903 there were more than 2000 car companies, and nearly all of them failed even though cars have transformed the country since then.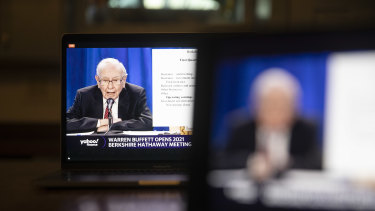 "There's a lot more to picking stocks than figuring out what will be an incredible industry in the future," said Buffett, who is known for his remarkably successful investing record. "I just want to tell you that it's not as easy as it sounds."
Buffett has said that most people will fare better by owning an S&P 500 index fund instead of betting on individual stocks. He said many of the novice investors who jumped into the market recently and drove up the value of video game retailer GameStop are essentially gambling.
"The gambling impulse is very strong in people worldwide and occasionally it gets an enormous shove," Buffett said. "It creates its own reality for a while, and nobody tells you when the clock is going to strike 12 and it all turns to pumpkins and mice," he said.
Buffett said the stock trading platforms that allow people to buy and sell stocks for free, such as Robinhood, are only encouraging that gambling.
AP
Elders names Tania Foster as CFO
By

Alex Druce



Listed agribusiness firm Elders has named NAB exec Tania Foster as its new chief financial officer.
Ms Foster will join the $1.9 billion Elders on May 31 after ten years at NAB, where she has most recently held the role of CFO for business and private banking and, prior to this, the role of CFO for corporate and institutional banking.
Before joining NAB, Tania held roles with other blue-chip Australian companies including ANZ and BHP.
She succeeds Richard Davey who will retire from Elders no later than the end of June 2021.
"Tania has strong ties to the agricultural sector, having grown up on a sheep and cattle property at Casterton and remains actively involved in the management of rural properties," Elders chief executive Mark Allison said.
"Tania also brings experience of running regional banking territories at ANZ".
Elders' shares closed at $12.17 on Friday and are up 23.4 per cent for the year so far.
The company hit a more-than decade high of $12.86 last month.
Netflix Australia revenue grows off major COVID-19 streaming boom
By

Zoe Samios



A coronavirus pandemic-related streaming boom has directly benefited Netflix Australia, with the video giant growing its local revenue by 17 per cent last year as more people were forced to stay at home.
Documents filed to the Australian Securities and Investment Commission show the company, known for shows such as Bridgerton, The Crown and The Queen's Gambit, made $20.5 million in local revenue and a profit of $878,234 in the year ending December 31.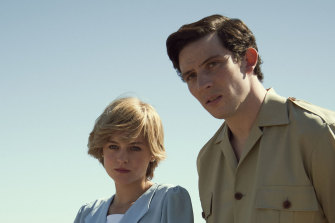 The figures do not include local subscriber revenue, which is collected at Netflix Australia's parent company in the Netherlands, but indicate growth in users through large increases in certain fees.
Netflix Australia receives fees from its parent in Holland for things like payment processing and engineering and other support services.
The fees jumped 23 per cent to $10.6 million in 2020, compared to $8.5 million in 2019, due to an increase in subscribers. The rise in total revenue, as well as a 19 per cent increase in operating expenses, also points to the growth of the local business.
The streaming giant paid $553,705 in local income tax, up 14 per cent on the previous year because of higher non-deductable tax expenses.
"We comply with all Australian and international tax law," a Netflix spokesperson said. "In addition, we continue to invest aggressively in Australian content."
Ratings changes, via Bloomberg
Atomos (AMS): Rated New Buy at Shaw and Partners; PT $1.53
McPherson's (MCP): Cut to Sell at Shaw and Partners; PT $1.54
ResMed (RMD): Cut to Neutral at Citi
Solomon Lew's Premier Investments to repay $15.6m in JobKeeper funds
By

Dominic Powell



Billionaire retailer Solomon Lew has backflipped on his decision to not repay $15.6 million in government JobKeeper subsidies after a bout of strong trading meant the funds were no longer required.
Mr Lew's retail empire Premier Investments, which operates companies such as Peter Alexander and Smiggle, notified shareholders on Monday it would pay back the $15.6 million in JobKeeper 'net benefit' it had received over 2020.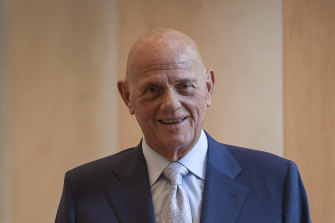 This comes as a stark contrast to Mr Lew and Premier's stance at its half-yearly result earlier this year, where the billionaire was adamant about his decision to hold on to the funds in case they were needed to pay staff through future lockdowns.
In the statement, the business said it had been forced to shut its stores through Queensland and Western Australia's snap lockdowns, and the company used the JobKeeper funds to support stood-down staff.
However, sales performance at the company's stores following the lockdowns upon reopening had "fully offset the cost of supporting our teams", meaning the JobKeeper funds were not required.
"The Premier Board, having regard to these outcomes, combined with the success of the Commonwealth and State Government's management of COVID-19, has determined that it is now appropriate to refund the net JobKeeper benefit of $15.6 million to the Australian Tax Office," the company said.
Premier has been one of the companies directly in the firing line of politicians and governance advocates who have been calling for profitable businesses to repay their JobKeeper takings.
At the business's half-year result, Premier reported a profit of $188 million, nearly double its profit in the prior corresponding half. It also declared a 34 cent per share dividend.
Lithium miners set big target to feed electric car battery boom
By

Nick Toscano



Two of Australia's largest miners of lithium, the key ingredient in electric car batteries, believe they could supply 10 per cent of worldwide demand for the raw material as they make their pitch to merge into a $4 billion giant.
With car-makers ramping up plans to electrify their vehicle fleets and analysts accelerating battery demand projections, Brisbane-based Orocobre and Perth's Galaxy Resources have been in talks with their shareholders to create the fifth-largest lithium producer globally and are now voicing confidence the tie-up will be supported.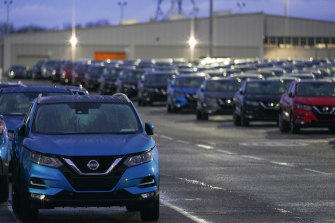 Orocobre chief executive Martin Perez de Solay, who will head the new group, recently told investors the combined entity would be seeking to grab a 10 per cent market share within the next nine years.
"Our objective is to create a company that grows with the market, at the right time in the market," he said.
"It's a huge opportunity that we have by putting both companies together."
Prices for lithium products, including Australian hard-rock lithium known as spodumene, have been under pressure since 2018 from a sudden influx of new supply outpacing demand, but have rallied sharply this year.
While electric cars presently account for less than 3 per cent of new car sales, car-makers are expanding electric vehicle lines, sales are strengthening in China and Europe, and other world governments are unleashing "green" stimulus packages targeting transport electrification.
Westpac profits rebound as it unveils cost-cutting plan
By

Clancy Yeates



Westpac's half-year profits rebounded 256 per cent from the depressed levels of a year ago to $3.5 billion, as the lender also lifted its dividend and announced a major plan to slash its cost base.
In its results on Monday morning, chief executive Peter King vowed to cut Westpac's cost base by more than $2 billion over the next three years, as it sells businesses, ramps up a digital transformation program, and responds to long-term pressures on returns.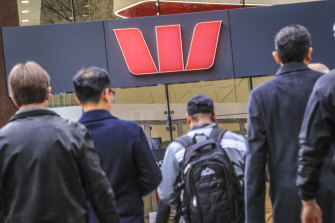 Westpac's cash profits for the March half, which were weighed down heavily last year by provisions for bad loans due to COVID-19, rebounded by 256 per cent to $3.5 billion compared with a year ago, or 119 per cent from the September half.
The profit result is higher than the $3.3 billion figure expected by analysts, according to consensus estimates cited by Citi, and the 58c dividend is also slightly ahead of expectations.
The reason for the surge in profit was a big swing in bad debt charges, in response to the much brighter economic outlook. In the same half last year, Westpac's results included an impairment charge of $2.2 billion, whereas this year the bank's bottom line received a $372 million benefit from impairments being unwound.
"It has been a promising start to the year with increased cash earnings, growth in mortgages and continued balance sheet strength," Mr King said.
Source: Thanks smh.com