Woolworths withdraws bid for Priceline owner API
Supermarket giant Woolworths has withdrawn its offer to buy the owner of Priceline pharmacy chains Australian Pharmaceutical Industries after a review of the company's books, paving the way for a takeover by Wesfarmers.
Woolworths announced its withdrawal of its $1.75 per share offer for API on Friday morning after being unable to validate the financial returns it required while conducting due diligence on the group.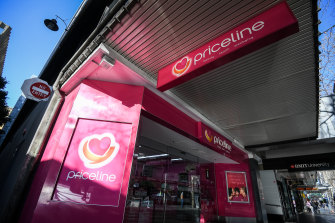 API will instead press ahead with a deal with Wesfarmers, which has offered $1.55 a share for the group that also owns the Soul Pattinson Chemist and Pharmacist Advice chains.
"We are grateful to the board and leadership team of API for their constructive engagement and support throughout the due diligence process," Woolworths chief executive Brad Banducci said.
The Australian Competition and Consumer Commission began a review of the offer from Wesfarmers, which owns the Kmart and Target chains, for API in December.
Analysts had been tipping that Woolworths' offer would face a higher regulatory hurdle than the bid by Wesfarmers given it competes on many of the same personal hygiene items that is sold across API's brands, particularly Priceline.
In mid-December Wesfarmers managing director Rob Scott told The Age and The Sydney Morning Herald that his company was best placed to merge with API rather than Woolworths.
"When we owned Coles, we knew how important the personal care and beauty category was, it was a very profitable category. If API is owned by a supermarket, it will always play second fiddle because they have billions of dollars of sales that they will be focused on elsewhere."
Source: Thanks smh.com