Rio Tinto sees Australia-China trade tensions 'thawing' under Labor
Rio Tinto, the nation's largest iron ore producer, has noticed an improvement in trade relations between Canberra and Beijing after a diplomatic dispute led to a two-year ban on Australian coal and restrictions on other imports.
Australia's ties with its biggest trading partner deteriorated in 2020 over diplomatic issues including former prime minister Scott Morrison's call for an independent inquiry into the origins of COVID-19. The dispute led to China black-listing Australian coal, leaving dozens of vessels stranded off its coastline, and imposing hefty tariffs on other Australian goods, including wine and barley.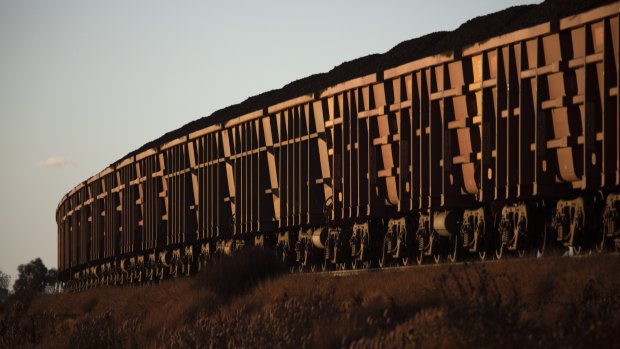 Kellie Parker, the chief executive of Rio Tinto's Australian operations, said the company had recently felt an unmistakable "thawing" of those frosty relations since Prime Minister Anthony Albanese's government came to power.
"The work the government is doing is very felt," Parker said on Friday after a speech at the Melbourne Mining Club.
"That thawing is coming straight back into business circles, into the Australia-China Business Council, and we are feeling it in China as well with our Chinese teams."
Rio Tinto is the top producer of Australia's most lucrative export, the steel-making ingredient iron ore, from its vast operations in Western Australia's remote Pilbara region.
China's massive steel sector, which processes the raw material in giant blast furnaces to churn out liquid metal, relies on Australian shipments for 60 per cent of its iron ore needs.
In the past two years, Chinese state-run media has repeatedly warned that the trade friction between Australia and China could spill over into the iron ore trade. However, curtailed production elsewhere in the world, due to severe COVID-19 outbreaks and strong demand for steel in China as Beijing embarked on an aggressive infrastructure building blitz, kept market conditions tight and left China with little opportunity to source it from elsewhere.
Strong demand in China helped push benchmark iron ore prices to all-time highs above $US230 a tonne in the first half of 2021. In the past financial year, iron ore accounted for $134 billion in Australia's overall export earnings, trade data shows.
Concerns have emerged again this year that Beijing may be pressing ahead with plans to curtail Australian miners' influence over iron ore markets after establishing a state-backed body known as the China Mineral Resources Group. The company, whose scope of responsibility includes overseeing mine investments and sourcing the raw materials for the nation's steel sector, is being seen as another bid by Beijing to seek to bring down prices.
Parker said Rio Tinto had ongoing discussions with Chinese iron ore buyers, and understood that "prices hurt them".
"When you're producing as much steel as China, you want some certainty around your input, and they have been very, very exposed," she said on Friday.
"So we're not concerned, but, certainly, we're working with them."
Also on Friday, Rio Tinto announced it had received enough offers to build 4 gigawatts of large-scale wind and solar farms to help decarbonise its emissions-intensive Queensland aluminium assets.
As big emitters around the world face pressure to respond to global warming, Rio Tinto has been seeking proposals for clean energy, backed up by "firming" capacity, to power its Boyne smelter, Yarwun alumina refinery and Queensland Alumina refinery in the Gladstone area.
The Business Briefing newsletter delivers major stories, exclusive coverage and expert opinion. Sign up to get it every weekday morning.
Source: Thanks smh.com