Relaxed: JB Hi-Fi unfazed as sales defy gravity
Given the current economic uncertainty and the dour outlook for inflation, interest rates and consumer confidence, nothing says stale like a retail outfit's sales and profits for a reporting period signed off on June 30.
But JB Hi-Fi's upbeat sales figures and its apparent lack of concern about the consumer demand cliff that economists and analysts have been warning about serves up a head-scratching paradox.
JB's chief executive, Terry Smart, can't be accused of having his head in the sand either. In the outlook statement for the current financial year, he acknowledges that we are entering 'an increasingly uncertain retail environment and households budgets (will) come under further pressure'.
But the overall sentiment is pretty positive.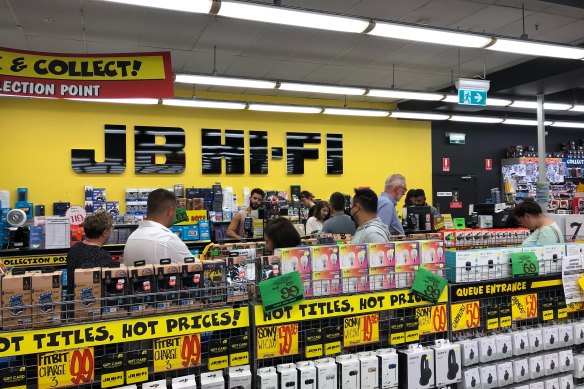 JB preannounced the bare bones of its June 30, 2022 financial performance a few weeks back, so the market was prepared for a robust result. But Monday's more detailed statement was telling for a number of reasons.
The first was the update for the month of July that suggested the sales momentum for the retail juggernaut is continuing. Sales for JB Australia were up 9.7 per cent for the period, meanwhile, Good Guys' sales were ahead 7.8 per cent – albeit compared against a weak July last year.
Another important 'tell' is the fact that JB is sitting on higher inventory levels – not stale leftover stuff but new models of electronic goods that it clearly believes consumers will buy.
In that sense, the elevated stock level is further evidence that JB feels that it won't follow other retailers down the depressed demand cliff.
The company has a decent amount of flexibility to amend its own orders if consumer demand goes pear -shaped, but there is nothing in CEO Smart's demeanour that suggests he is worried about exercising that option.
So, does team-JB believe that its crystal ball is less clouded than that of the rest of the retail world?
When I asked Smart about the JB 'house view' on the economic environment – the prospects for the economy, inflation, interest rates and unemployment, his response suggested that he was less concerned about issues over which the JB management had no control.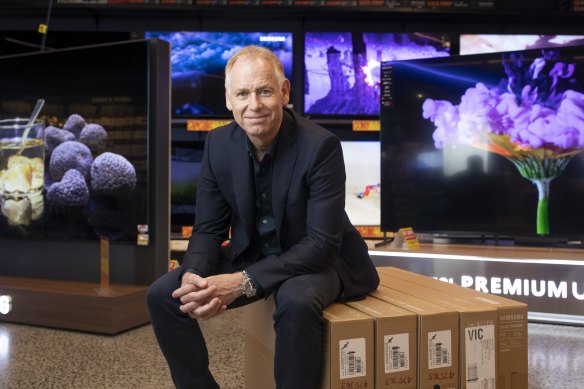 He knows how much flexibility he has on ordering stock, he knows how much cost control leverage JB's management has and how it can control most customer pricing.
"We are an optimistic bunch. We plan category by category, and we believe that consumers are still spending" Smart said.
Translated his comments read – we are just a bunch of retailers who focus on what we are good at – retailing.
However, JB's experience of supply chain issues that plagued most companies for the early part of the year – and remain a key reason for inflationary pressures – have jumped by 75 per cent, according to Smart. The blockages have resulted mainly from a shortage of available containers.
And then there is the whole debate about defining where JB sits on the spectrum of discretionary versus non-discretionary retailer. That is, where do its products sit between milk/bread and a new model Porsche.
According to Smart, many of JB and Good Guys products sit closer to the baked beans end of the spectrum. Its technology-tilted products are often seen as necessities rather than a luxury – like the newest Samsung or iPhone mobile or the latest computer, gaming console or even the latest HD TV.
"A lot of technology we use is so integrated into customers' lives – they will upgrade because they desire to have the latest products," Smart says.
JB's confidence that it can parachute over the consumer demand cliff stems from the brand's association with fair value – an important asset at a time when household budgets are tight. However, just how immune JB is from the ravages of a slowing economy and poor consumer confidence remains to be seen.
Despite a positive start to the current financial year, there's considerable uncertainty in the air. JB's share price fell yesterday in line with other discretionary retailers, including Kogan and Harvey Norman, while the broader stock market was in positive territory.
JB's numbers would suggest it's in solid ground but there's no guarantee things won't sour once the next round of rate hikes come into play.
The Business Briefing newsletter delivers major stories, exclusive coverage and expert opinion. Sign up to get it every weekday morni
Source: Thanks smh.com