Retail, banks and health lead the way as ASX extends gains
Local shares extended gains during Friday morning trading, as health and financial heavyweights joined the party to help push the ASX up for a fourth session in a row.
The S&P/ASX 200 was 0.3 per cent stronger just after 12pm AEDT, touching 7260.5 points. Consumer stocks gained further momentum as Black Friday sales kicked off: Harvey Norman was 3.2 per cent stronger to $4.30, while Peter Alexander and Smiggle operator Premier Investments gained 1.1 per cent to $25.59.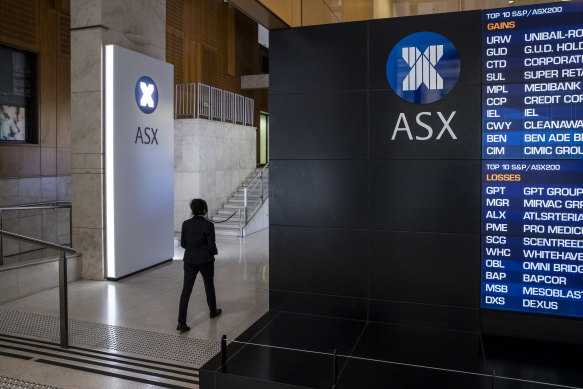 Blue chip financial and healthcare stocks also helped to lift the overall index in late morning trade. All big four banks were in the green, led by Commonwealth Bank with a rise of 0.7 per cent to $108.77.
Biotech giant CSL stayed above the $300-a-share mark, where it has not been since last year. Shares gained 0.7 per cent to $301.11, two days after its landmark gene therapy treatment for haemophilia B was approved.
Not all retail stocks soared during the morning, however – small-cap fashion retailer City Chic plunged 24 per cent after a trading update warned of tightening margins. But the biggest weight on the index was the mining sector, with BHP down 0.8 per cent to $44.20.
The Australian dollar soared overnight as the US dollar weakened after currency markets responded to meeting minutes from the US Federal Reserve which suggested support for more moderate rate rises. The Aussie dollar dipped slightly at the market open and was 0.2 per cent weaker to 67.5 US cents at 12.15pm.
The Stoxx Europe 600 Index extended its recent rally as the real estate sector outperformed, boosted by the prospects of slower rate rises and analyst upgrades. An index of global stocks advanced for a third day.
European bonds rallied as traders trimmed wagers on rate increases by the European Central Bank, with risk-sensitive Italian debt leading the gains. There is no trading in Treasuries due to the US Thanksgiving holiday.
Minutes from the Fed gathering earlier this month indicated several officials backed the need to moderate the pace of rate rises, even as some underscored the case for a higher terminal rate. This adds weight to expectations the central bank will raise rates by 50 basis points next month, ending a run of jumbo 75 basis point increases.
"It was the start of a more different and dovish narrative from the Fed," said Sunaina Sinha Haldea, global head of private capital advisory at Raymond James. "Is it a pivot? No, but are we seeing a slowdown in rate hikes and that path downwards towards rate cuts coming through? Yes. I think we will look back and say this was the peak of it."
"A few" ECB officials favoured a smaller increase in interest rates in October to tackle record inflation, an account of their last meeting showed. Those who preferred a less aggressive step cited the fact that the hike was accompanied by other monetary-tightening measures, according to the account, published on Thursday.
Oil slipped as the European Union considered a higher-than-expected price cap on Russian crude and signs of a global slowdown increased.
Meanwhile, Bank of America said its private clients were flocking to bonds and out of stocks amid fears of a looming recession. Bond funds attracted inflows for a 39th straight week, strategists led by Michael Hartnett wrote in a note. The strategists favour holding bonds in the first half of 2023, with stocks becoming more attractive in the last six months of next year.
"We stay bearish risk assets in the first half, set to turn bullish in the second half as narrative shifts from inflation and rate 'shocks' of 2022 to recession and credit 'shocks' in the first half 2023," the strategists wrote.
Gold rose for a third day on the Fed minutes. The precious metal has been hurt by the US central bank's aggressive monetary-tightening policy to curb inflation, which has pushed up bond yields and the dollar and in turn sent bullion tumbling about 16 per cent from its March peak.
With Bloomberg
The Market Recap newsletter is a wrap of the day's trading. Get it each weekday afternoon.
Source: Thanks smh.com