'Short, sharp disruption': Business leaders look beyond China COVID outbreak
Australian businesses may escape the worst of supply chain headaches caused by China's COVID outbreak even as they predict the Asian superpower will see a "short, sharp disruption" to its own economy.
KPMG Australia chief economist Dr Brendan Rynne said he is expecting choppier than usual economic data from China in the first quarter of the calendar year after Beijing abruptly reversed its long-held zero-COVID policy that has triggered what may be the largest coronavirus outbreak in the world.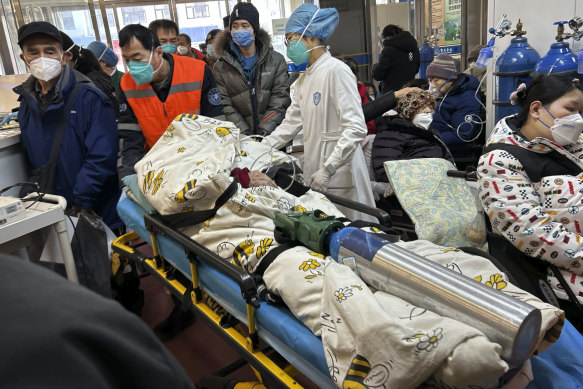 "The Chinese authorities have ripped the band-aid off quickly to enable COVID to basically work its way through the Chinese economy as quickly as possible," Rynne said in a media briefing on Wednesday.
"They're going to deal with the consequences internally of that policy action, but economically, what that does, in my opinion, is it causes a short sharp disruption, but then allows the economy to move on."
Rynne made the comments as KPMG released an annual CEO survey that delved into the key issues and concerns of nearly 500 executives and board members of major Australian companies. According to the report, the key concerns from surveyed executives – which was conducted before China's loosening of its zero-COVID policy and the resulting outbreak in the country — were getting good talent into businesses, digital transformation, and dealing with cyber risks.
KPMG national chairman Alison Kitchen told reporters on Wednesday that Australian retailers had already adapted their supply chain model to ensure they were better prepared for any problems caused by issues in our large trading partners, such as China.
"Most businesses have said they've really had two years of COVID to build better flexibility into their supply chain, and therefore a wider range of sources from which they get goods. So whilst we've seen supply shortages, it's not necessarily going to get dramatically more challenging for us here," Kitchen said.
"It may slow growth, but I don't know that it's going to create new sources of challenge."
The comments are counter to those made by federal Treasurer Jim Chalmers, who earlier this week described China's COVID wave as a "key risk" to Australia's economy this year while local business leaders have told this masthead they are bracing for logistics and freight issues to come to a head at the end of this month as the outbreak clashes with Lunar New Year to create widespread labour shortages.
"We are heavily reliant on Chinese markets and Chinese work forces for a lot of the goods in our economy. It's really right across the board," Chalmers said on Monday.
China surprised global markets when President Xi Jinping abruptly reversed his long-held zero-COVID policy in early December. But the rapid unwinding of restrictions has ignited global concern about data transparency and the virus' spread to other nations. Australia is among more than a dozen countries, including the US, the UK, the European Union, France, and India to introduce COVID testing requirements for travellers from China.
Beyond China, the KPMG survey provides an insight into the big issues Australian businesses expect to grapple with for the next 3-5 years.
"These are notably different from a year ago, when their concerns involved staff working remotely, designing an ESG strategy, and ensuring diversity in organisational leadership," the survey report said.
"Either way, as we enter 2023, traditional concerns like revenue growth, the training and up-skilling of staff, and operational security (albeit now with a technology focus) have re-emerged as priority areas for business leaders today."
The survey was conducted between September 30 and October 21, before the extent and severity of Optus and Medibank's cyber-attacks had fully unfolded.
"It is now better understood that cyber crimes not only impact the organisations whose systems have been hacked," the report said.
"They also have the potential to hurt individuals whose data is stolen and communities who must deal with the aftermath of the loss of faith in data security and integrity that follows an attack."
Only 3 per cent of senior executives nominated geopolitical risk as a top 'social issue' impacting the business environment.
Source: Thanks smh.com