Australia's a bike-sharing graveyard but new players are betting big on Sydney
Thrown into rivers, abandoned on city streets or hurled into backyards, shared bikes and the companies that operate them have found Australia an inhospitable market. But a new crop of operators are betting against the odds that the country can become a goldmine.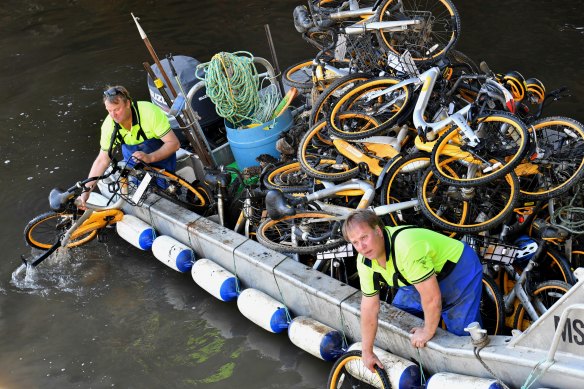 The American e-bike giant Bird started operating quietly in Sydney in October followed by a Chinese competitor, HelloRide, in December. Both are liveried in blue. A third firm, the Italian Helbiz, has staff in the country and a spokesman confirmed it was eyeing an Australian expansion. They join the orange Neuron and the purple Beam from Singapore, along with the longstanding American operator Lime.
The first wave of services, which flooded city streets with cheap and unreliable pedal bikes, such as Ofo, oBike and Reddy Go, left locals puzzled as to how they could make money when they launched around 2017. Around a year later, when several went out of business in Australia, the answer became clear: they couldn't.
This time, the industry believes, things will be different. "The shared e-bikes have come a long way since those of the Ofo or oBike era," said Hugo Burt-Morris, Australian general manager of Lime. "They are now heavier, more robust and GPS-tracked 24/7."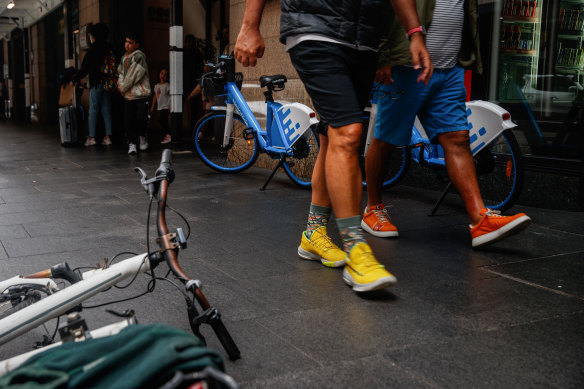 "Long gone are the days of micromobility companies setting up shop in new cities without regulator approval or buy-in from the public."
The bikes, which have motors that top out at the state limit of 25km/h, are maintained by teams that drive or ride around the city, charging bikes and fixing faults.
And the industry is hopeful these vehicles will help keep cars at home and connect users with public transport, limiting emissions, cutting congestion and saving space in the city. Company data shows the bikes are already saving on car trips.
But the industry still faces questions about whether it can ensure there are enough functional bikes close enough to where people want to go, as well as concerns about crowding streets.
Profitability is another issue. Electric bikes are expensive, and with so many operators in the market, industry insiders who spoke on condition of anonymity said mergers or failures were likely.
Bird, which was among the industry's pioneers, saw its share price fall 95 per cent last year, and has since moved to cut costs, including by pulling out of several markets, and secured additional investor cash.
"We don't believe that selling $2 for $1 is a viable business strategy and do not plan to stay in markets where that's a requirement," its chief executive Shane Torchiana told an earnings call late last year.
The company would not say how many e-bikes it has in Sydney but said it had dozens of staff here, along with contractors who maintain its fleet.
"Bird is committed to our operations in Australia, and proud to provide riders with affordable, reliable, and sustainable transportation options while helping cities meet climate and mobility goals," said Deevya Desai, Bird's Australian senior manager for government partnerships.
Burt-Morris, the Lime boss, said the Australian industry was in its infancy and could expand manifold to resemble those in London or Paris but acknowledged challenges.
"We are not a Transdev or a Yarra Trams, we don't get hefty subsidies from the government to provide transportation, and in most cities, we actually pay to operate," Burt-Morris said. "We focus a great deal on ensuring we can run a sustainable business far into the future, and it's likely we will see some industry consolidation or exits in the next 1-2 years because other operators have not had that same focus."
Industry figures estimate there are now somewhere around 2000 shared e-bikes on Sydney's streets, with users charged for distance or time on the bike. Beam charges $1 to unlock a bike via its smartphone app and 45¢ a minute to ride.
But these bikes are a prelude to a bigger opportunity expected to arrive this year or next: shared electric scooters. These are banned in Sydney by the state government, but trials are being planned council by council with Transport NSW. The first trial is in the town of Lake Macquarie near Newcastle, which launched with Beam in December.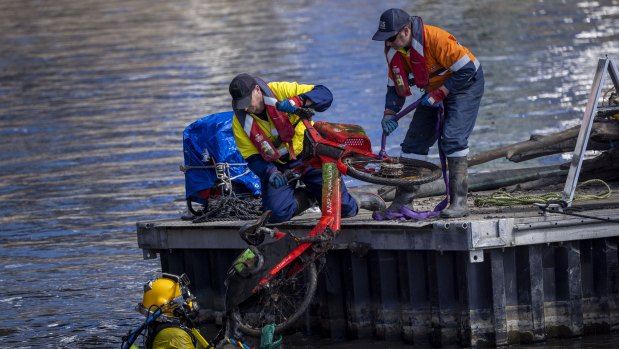 Beam's Australian boss Tom Cooper said Beam focused on scooters where it could. "Across markets we see scooters get five trips for every one ebike trip," Cooper told this masthead. "And so if there was the opportunity to put scooters in, then we invest in that."
They were easier to ride in a suit, skirt or heels than a bike, Cooper said, but he added the company was committed to its roughly 750 bikes in the city.
Cooper's counterpart at Neuron, Richard Hannah, said the company's operations in Melbourne and Brisbane, where it operates scooters, were "extremely successful".
"Melbourne's e-scooter demand is the highest of any of our operations globally, the city's program is breaking records when it comes to e-scooter utilisation with as many as 9000 trips over the course of a single day," Hannah said.
A spokeswoman for Transport NSW said the government was ensuring that e-scooters were introduced to the state safely. "We will continue to work with councils to initiate new trials and monitor ongoing trials over the next 12 months," the spokeswoman said.
But unlike many other major cities, operators in Sydney do not require an official license to operate. Instead, a group of inner-city councils have guidelines on where and how share-bikes can operate and be parked to avoid issues such as overcrowding busy footpaths.
A spokesman for the City of Sydney said it does not have regulatory control over bike-sharing operators but urged operators to work with the city and adhere to council guidelines.
It is not participating in the government e-scooter trials, instead focusing on building bike lanes.
"The City of Sydney has made the decision that the busiest metropolitan area in Australia isn't the best place for a trial of e-scooters," the spokesman said. "This is primarily due to the high levels of pedestrian activity and a separated bike network that is still under construction."
None of the operators would directly answer questions about their revenue or profitability, but Beam said it was in a strong position with $US30 million from a recent capital raising round earmarked for Australia and New Zealand.
A spokesman for HelloRide said that it had 400 bikes in Sydney and six operations staff, with the company pitching a 99c offer for new users. Regular service fees charged by HelloRide are higher.
"HelloRide is excited about future opportunities across Australia as we continue conversations with local councils," the spokesman said.
A spokesman for the Inner West Council said it had asked sharebike operators to avoid flooding the area with bikes and avoid areas such as King Street in Newtown, where the footpaths are narrow and crowded.
"They have complied and the results have been good," the spokesman said.
The Business Briefing newsletter delivers major stories, exclusive coverage and expert opinion. Sign up to get it every weekday morning.
Source: Thanks smh.com