Full disclosure: How McDonald's made it harder for companies to hide sex scandals
The US corporate regulator's move to charge McDonald's for lack of disclosure plus fine and ban its former chief executive for misleading investors about his involvement in sex scandals should act as a cautionary tale to Australian company boards and executives.
It ups the ante on corporate disclosure and governance and could be deciphered as a push towards greater transparency around the reasons behind any unexpected executive departures.
Even on its narrowest interpretation, if Australian regulators were to adopt the same approach, it would require companies to disclose if an executive is removed for inappropriate conduct.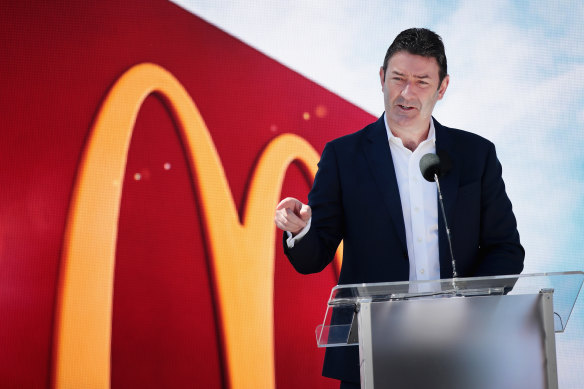 For years, Australian companies have hidden misconduct such as inappropriate personal relationships, sexual harassment complaints, or bullying as the reason for sacking senior staff or directors – because these behaviours are seen as a stain on a company's brand and reputation.
Staying true to the corporate whitewash, executives have often been paid generous termination benefits and the departure is often characterised as a resignation or by mutual agreement.
Arguably, the opposite is true. Organisations that are seen to act on this kind of behaviour and properly disclose it will weather the short-term headlines and ultimately enhance their reputations.
In general, announcements of senior management departures that don't involve any salacious misbehaviour still fall short of an adequate explanation.
McDonald's learnt this the hard way.
Stephen Easterbrook was sacked from the top job at McDonald's in 2019 for "exercising poor judgement and engaging in an inappropriate personal relationship with a McDonald's employee in violation of company policy", says the US Securities and Exchange Commission.
At the time, the McDonald's move was seen as positive because it disclosed that Easterbrook had violated company policy – a nod to the growing #MeToo movement.
What wasn't initially disclosed was that the board exercised its discretion to award him $US105 million ($152 million) as part of a severance package – thanks to a separation agreement (itself valued at $US40 million) that specified his termination was "without cause".
But the SEC maintained that public companies, such as McDonald's, were "required to disclose and explain all material elements of their CEO's compensation, including factors regarding any separation agreements". Instead, it found McDonald's "failed to disclose that the company exercised discretion in treating Easterbrook's termination as without cause in conjunction with the execution of a separation agreement".
McDonald's subsequently investigated the Easterbrook affair only to discover his involvement in more widespread indiscretions with more employees.
In a later lawsuit by McDonald's against Easterbrook, the fast-food giant alleged it had reportedly found dozens of nude, partially nude or sexually explicit photographs and videos of various women, including photographs of these company employees, sent from his work email account.
Even on its narrowest interpretation, if Australian regulators were to adopt the same approach, it would require companies to disclose if an executive is removed for inappropriate conduct.
Investigators also found messages showing that he approved a grant of company shares worth hundreds of thousands of dollars to one of the employees with whom he had had a relationship "shortly after their first sexual encounter".
That lawsuit was settled last year with Easterbrook returning the $US105 million in cash and equity.
According to the SEC's order: "Easterbrook knew or was reckless in not knowing that his failure to disclose these additional violations of company policy prior to his termination would influence McDonald's disclosures to investors related to his departure and compensation.
"When corporate officers corrupt internal processes to manage their personal reputations or line their own pockets, they breach their fundamental duties to shareholders, who are entitled to transparency and fair dealing from executives," said Gurbir S. Grewal, the SEC's director of the division of enforcement.
"By allegedly concealing the extent of his misconduct during the company's internal investigation, Easterbrook broke that trust with – and ultimately misled – shareholders."
Easterbrook was fined $US400,000 and given a five-year ban on serving as a corporate officer or director while the SEC found that McDonald's violated one section of the Exchange Act and an Exchange Act rule.
The big winner was corporate transparency.
Source: Thanks smh.com