Tourism operators, travel agents cheer return of China travellers
Tourism operators, travel agents and Chinese airlines are readying for a rush of travellers visiting Australia after China reversed its zero COVID policy and reopening its economy.
Flight Centre's head of global air Greg Parker told this masthead China's reopening is the best news the Australia's tourism industry has received in the last three years and expects increased pressure on Australia's carriers to increase their services and lower airfares.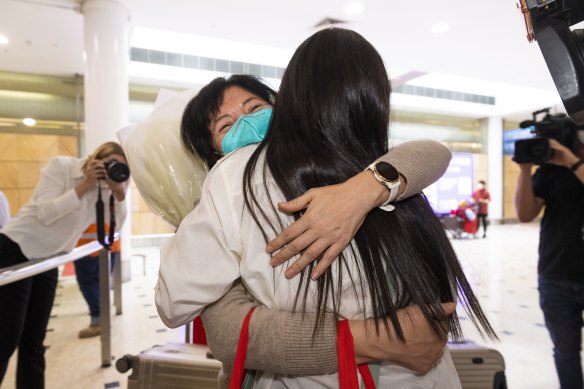 "If you look at Google traffic for flights out of Australia over the past month, China has rocketed to the top. There's a huge amount of outbound and inbound demand between the two countries and the Chinese carriers are sure to put downward pressure on airfares as they beef up capacity," Parker said.
China's biggest carriers have increased passenger flights to Australia this month, putting pressure on local airlines which are yet to announce the resumption of flights to Australia's biggest trade partner and the world's most insatiable travel market. Before the pandemic, an average of 1.4 million Chinese visitors spent more than $12 billion in Australia every year.
China Southern Airlines will begin flying daily services to Sydney and Melbourne by the end of this month, while Xiamen Air and China Eastern are readying to get up to four services per week by February. Air China has also scheduled flights in February following a three-year absence from the region.
Before the pandemic, China's airlines were responsible for about 30 per cent of international flights out of Australia. The Civil Aviation Administration of China said on Tuesday it expects international flights to and from China to hit 80 per cent of pre-pandemic levels by the end of this year. As it stands, the number of flights hovers at about 6 per cent of the pre-pandemic total with nearly 40 airlines submitting requests for around 700 flights per week through to the beginning of February.
Qantas was the only Australian carrier servicing the China route before the pandemic and is yet to signal a return to the market. Air New Zealand is the only carrier to return to the route, offering four return services to Shangahi per week. New Zealand is not bound to the same COVID-19 testing requirements imposed on international arrivals to some countries including Australia, a policy which has deterred many major airlines from recommencing flying.
"The testing requirement is certainly a deterrent. We'd like to see it retired soon, Parker said.
"The country has listened to the chief medical officer for the last three years. They made clear it shouldn't be a requirement, indicating there's some politics going on," he added.
Interest in business travel between Australia and its biggest trade partner has also soared since the border reopened with tens of thousands of Flight Centre corporate customers searching for flights.
Former merchant banker David Kingston – who owns Sunlover Cruises which operates trips from Cairns to the Great Barrier Reef and surrounds – said the return of Chinese tourism was perfectly timed now domestic tourism is expected to fall below pre-pandemic levels as Australian's increasingly seek overseas trips ahead of looming interest rate rises and inflationary pressures.
"It won't be overnight, but it will happen. We're getting ready to reinstate our China sales and marketing representatives but know it may take a couple of months before we begin to see tourists in great numbers due to limited airline capacity," Kingston said. Sunlover Cruises recently purchased a third boat-bringing the businesses' capacity to more than 1000 seats – to be ready for the tourists when they arrive.
Kingston said Queensland businesses like his will rely on travellers from highly populated countries including China, India and Japan to keep the industry going and doesn't expect China's airlines to struggle with operational issues the same way other regions have.
"Unlike the rest of the world, the bulk of China's aircraft were still flying throughout the pandemic, just not internationally, so they shouldn't be as hampered by supply chain issues and restraints. They just need the crew to crank them up," Kingston said.
Get a note directly from our foreign correspondents on what's making headlines around the world. Sign up for the weekly What in the World newsletter here.
Source: Thanks smh.com