ASX set to slide as Wall Street turns lower
Stocks gave up early gains and fell in midday trading on Wall Street as investors review the latest updates on retail sales, inflation and company earnings.
The S&P 500 fell 0.8 per cent at midday after rising as much as 0.6 per cent earlier in the day. The Dow Jones has slumped by 1.4 per cent and the Nasdaq is 1.1 per cent lower. The Australian sharemarket is set to slide, with futures at 5.03am AEDT pointing to a fall of 16 points, or 0.2 per cent, at the open. The ASX added 0.1 per cent on Wednesday.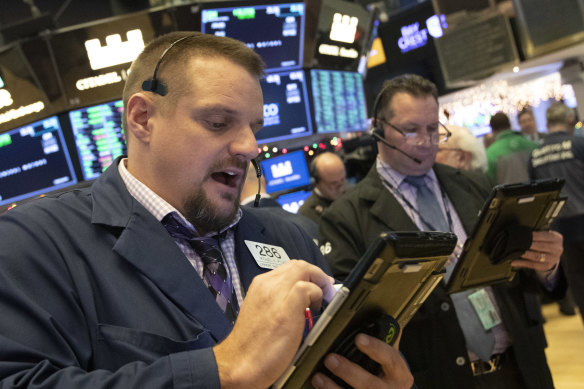 Trading has been unsteady so far this week following two solid weekly gains for the broader market.
Technology stocks were among the heaviest weights on the market. Microsoft fell 1.4 per cent after it became the latest technology company to announce layoffs. The software giant is cutting 10,000 workers or almost 5 per cent of its workforce.
Treasury yields were lower after the government reported that Americans cut back on their spending more than anticipated last month, the second straight decline. The government also reported more encouraging inflation data. Wholesale prices rose 6.2 per cent in December from a year earlier, a sixth straight slowdown for the measure of prices before they are passed along to consumers.
Wall Street has been hoping that easing inflation and a slowdown in economic growth might influence the Federal Reserve's position on interest rates. The central bank aggressively raised rates throughout 2022 in an effort to cool hot inflation, but that has hurt prices of stocks and bonds, and risks going too far and bringing on a recession.
The yield on the two-year Treasury, which tracks expectations for future Fed action, fell to 4.11 per cent from about 4.16 per cent just before the latest economic data was released. It was as high as 4.21 per cent late Tuesday.
"The appearances are that it looks like something is moving inflation and retail sales in the right direction, which is to say softer," said Tom Martin, senior portfolio manager at Globalt Investments. "The question is, what does it really mean."
Wall Street is hoping that it means a gentler Fed. The central bank has raised its key overnight rate to a range of 4.25 per cent to 4.50 per cent from roughly zero a year ago. The Fed will announce its next decision on interest rates Feb. 1. Investors are largely forecasting a raise of just 0.25 percentage points next month, down from December's half-point hike and from four prior increases of 0.75 percentage points.
The broader economic picture is still not clear enough to see whether the Fed's fight against inflation is working well enough to avoid a recession. Several major banks have forecast at least a mild recession at some point in 2023.
Investors are also reviewing the latest batch of corporate earnings to get more insight into how inflation and consumer spending are affecting profits and revenue. PNC Financial Services Group fell 5.3 per cent after reporting weak earnings.
Markets in Europe and Asia were mostly higher. Japan's Nikkei 225 rose 2.5 per cent after the Bank of Japan kept its loose monetary policy unchanged, dispelling speculation that it would yield to pressure and join other central banks in raising interest rates to fight inflation.
AP
Source: Thanks smh.com