ASX set to dip as recession fears weigh on Wall Street
Wall Street's losses deepened as worries that the US may be headed for a painful recession kept stock traders in a selling mood.
The S&P 500 and Dow Jones Industrial Average each fell 0.8 per cent, their third straight drop. The Nasdaq composite lost 1 per cent. The Australian sharemarket is set to open lower, with futures at 7.59am AEDT pointing to a fall of 1 point at the open. The ASX added 0.6 per cent on Thursday.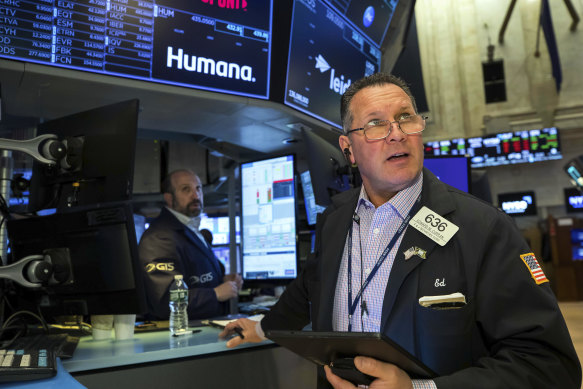 Every major index is on track for a weekly loss after the market kicked off the year with a two-week rally. Analysts expect the broader market to remain unsteady as investors try to get a clearer picture of inflation and the economy's path ahead.
"It's very reflective of the conflicting views that investors have with respect to where things are headed here in early 2023," said Greg Bassuk, CEO at AXS Investments.
Reports showed weakness in several areas of the economy, including the housing industry and manufacturing in the mid-Atlantic region, though they weren't quite as bad as expected and the job market appears to remain healthy. They follow worse-than-expected readings a day earlier on retail sales, a cornerstone of the economy, and industrial production.
The weaker economic data "has investors a little bit on edge, questioning how much consumer resilience is left in the tank," said Ross Mayfield, investment strategist at Baird.
The latest economic data paint a picture of an economy slowing under the weight of last year's blizzard of rate hikes by the Federal Reserve. The central bank aggressively raised interest rates to purposely slow the economy and cool inflation. The strategy risks hitting the brakes too hard on economic growth and causing a recession.
Several major banks are forecasting at least a mild recession this year as the impact from the Fed's rate increases reverberates through the economy. Inflation has been cooling, but prices are still stubbornly high on many items, squeezing consumers.
The central bank has raised its key overnight rate to a range of 4.25 per cent to 4.50 per cent from roughly zero a year ago. The Fed will announce its next decision on interest rates Feb. 1. Investors are largely forecasting a raise of just 0.25 percentage points next month, down from December's half-point hike and from four prior increases of 0.75 percentage points.
The central bank has maintained that it won't ease off its fight against inflation until it is sure that prices are cooling. However, that stance is making Wall Street more uneasy with every new report that shows the economy is slowing.
"The Fed is still out in the press with the same higher-for-longer mantra, so there's a little bit of a risk-off sentiment on that," Mayfield said.
Fed officials have also been closely watching several areas of the economy, including the labor market, to get a better sense of whether inflation is slowing. The latest weekly unemployment data shows that employment remains strong, which is good for workers but makes the Fed's fight against inflation more difficult.
The yield on the two-year Treasury, which tracks expectations for future Fed action, rose to 4.13 per cent from 4.09 per cent late Wednesday. The 10-year Treasury yield, which influences interest rates on mortgages and other loans, rose to 3.40 per cent from 3.38 per cent. Bond yields have been mostly falling since the beginning of the year.
More than 75 per cent of the stocks in the S&P 500 closed lower. Technology companies, retailers and industrial stocks were among the biggest drags on the benchmark index. Chipmaker Nvidia fell 3.5 per cent, Home Depot dropped 4 per cent and Deere & Co. fell 4.1 per cent.
The S&P 500 fell 30.01 points to 3,898.85. The Dow fell 252.40 points to 33,044.56. The tech-heavy Nasdaq slid 104.74 points to 10,852.27.
Small company stocks also fell. The Russell 2000 index lost 18.02 points, or 1 per cent, to close at 1,836.35.
Wall Street is also closely reviewing the latest round of corporate earnings to get a clearer picture of how companies are dealing with inflation and a slowing economy. Credit card issuer Discover Financial slipped 0.4 per cent after it forecast an increase in net charge-offs in 2023. Adhesives company H.B. Fuller shed 3.8 per cent after reporting weak financial results.
Investors are also monitoring political developments that could eventually hurt the economy. The Treasury Department says it has started taking "extraordinary measures" as the government has run up against its legal borrowing capacity. Treasury Secretary Janet Yellen sent a letter to congressional leaders Thursday urging them to act to raise the debt limit. The government can temporarily rely on accounting tweaks to stay open.
European markets fell and Asian markets ended mixed.
AP
The Market Recap newsletter is a wrap of the day's trading. Get it each weekday afternoon.
Source: Thanks smh.com