Lew's Myer investment is finally in the black but has he missed the takeover boat?
For five years the burr under Solomon Lew's investment blanket has been Myer – the astute billionaire's financially disastrous decision to raid the department store's shares at $1.10 a pop in 2017 and watch the share price sink to as low as ten cents.
So, Myer's surprisingly robust trading update – one that pushed its share price strongly North – must have been a red letter day for Lew because his investment appears to be no longer under water.
Myer's share price jumped to 92 cents on Tuesday. Sure, this is lower than the price at which Lew bought his initial 10.7 per cent stake but in subsequent years he has added more stock at prices between 40 cents and 50 cents to take his holding to almost 23 per cent.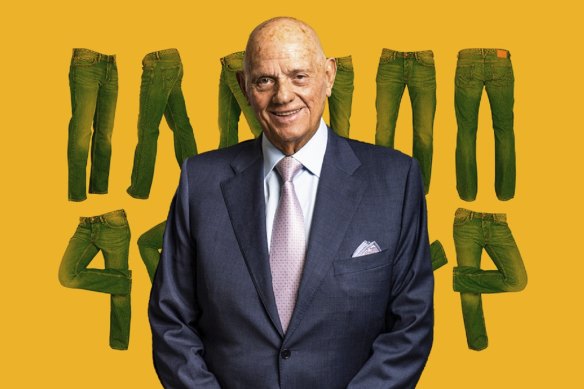 Although he is in the black, on paper, it still couldn't be described as a stellar investment.
For example, had that money been invested in the listed retail group that Lew controls, Premier he would have made roughly a 100 per cent increase on the share price and years of dividends along the way.
For Lew, the revival of Myer's fortunes must be bittersweet.
If Lew was of a mind to mount a takeover for Myer he seems to have missed the opportunity to get in on the cheap. And if history is anything to go by Lew would loathe the prospect of paying full price for a retail asset.
There's been plenty of talk recently about Myer being a potential target, thanks to private equity firm Anchorage's move late last year to acquire David Jones.
Institutional shareholders have been positioning themselves around the edges in order to capitalise on any such deal.
Even if Lew hasn't the appetite for a Myer takeover, his stake has given him gatekeeper status if anyone else wants to have a try.
It is more likely that Lew will use the window that the Corporations Act allows for shareholders with more than 20 per cent of a listed company to 'creep' by buying three per cent every six months without having to lob a formal takeover offer.
If he takes that opportunity his stake would increase to nearly 26 per cent – a point at which it would be difficult for the Myer board to move without his approval.
Lew increasing his stake in Myer would also cement the view that the billionaire will continue to seek control of Myer without making an offer.
Lew will be happy that his investment in Myer has moved into profit, but the department store's strong performance raises other uncomfortable truths for Lew.
Despite his dogged criticism of Myer's strategy, its results over the past year suggest that the changes instituted by its chief executive John King have found traction. The company now says its sales for the five months to December 31, 2022 were its best since 2004.
Its net profit for the half year to the end of January this year should be up between 89 per cent and 104 per cent, the company said in its Tuesday update.
This may cause for pause for thought from those shareholders that supported Lew's claims for several years that the Myer board should be sacked. (Although, more recently he has thrown his support behind King.)
After years of acrimony between Lew and the Myer board the retail billionaire has only managed to secure one representative director – veteran retailer and long-time Lew lieutenant, Terry McCartney.
It's also a fair bet that Lew would still argue that the Myer turnaround could have been achieved more speedily had choice of directors been around the board table.
And while Myer's performance should be acknowledged, a number of other retail groups including JB Hi-Fi and Super Retail Group (owner of Supercheap Auto and Rebel Sport) have also pointed to a strong six months for sales revenue – as consumers shrugged off higher interest rates and inflation and headed to the shops.
Retail analysts, although surprised by the strength of Myer's trading update, remain wary of what is ahead. They are waiting for consumer spending to hit a brick wall later this year as the full effect of higher interest rates hit.
King also acknowledged that the future is uncertain.
"As with most retailers, we remain cautious on the macroeconomic environment for the remainder of the calendar year but are equally confident in the continuing momentum we have within the Customer First Plan and a range of initiatives we are executing," he said.
Source: Thanks smh.com