ASX set to edge up as Wall Street swings higher
Stocks are swinging through mixed trading on Wall Street following reports suggesting the economy and corporate profits may be doing better than expected.
The S&P 500 was 0.5 per cent higher in early afternoon trading, the Dow Jones was up 0.1 per cent after erasing an earlier gain of 177 points. The Nasdaq composite was 0.8 per cent higher. It sets up the Australian sharemarket to open higher with futures at 5.06am AEDT pointing to a gain of 10 points or 0.1 per cent, at the open. The ASX was closed on Thursday for the Australia Day public holiday.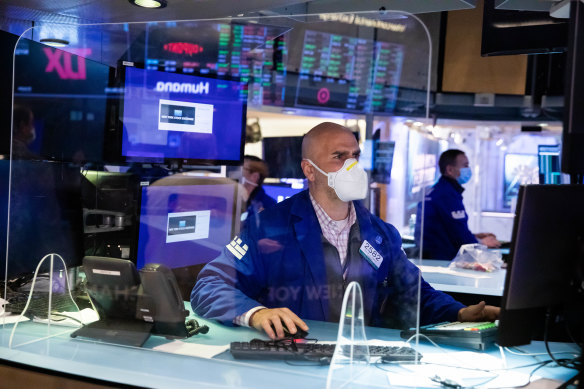 More swings may still be ahead, as each of the reports guiding the market had both positives and negatives for investors. Markets have veered up and down recently as worries about a severe recession and drop-off in profits battle against hopes the economy can manage a soft landing and the Federal Reserve may ease up on interest rates. A day earlier, stocks tumbled to sharp losses out of the gate, only to roar all the way back to finish nearly flat.
Thursday's headline report showed the overall economy held up better through the last three months of 2022 than economists expected, even with the weight of all the rate hikes the Fed approved last year to combat inflation. The economy's growth slowed to an annual rate of 2.9 per cent in the quarter, but that was still stronger than the 2.3 per cent that economists had forecast.
Other reports showed that orders for long-lasting goods from factories strengthened by more than expected in December and fewer workers applied for jobless claims than expected last week.
Such strength gives hope the economy can withstand last year's blizzard of rate hikes by the Fed, plus at least one more expected next week, without crashing to a deep recession. Higher rates intentionally slow the economy by making it more expensive to borrow to buy a home, a car or anything else on credit. They also drag down prices for stocks and other investments.
But a stronger-than-expected economy, particularly in the job market, can also carry counterintuitive risks. It could push the Fed to keep rates higher for longer in order to ensure inflation really is crushed. That would dash hopes on Wall Street that the Fed may cut rates later this year. Such hopes have been one of the main reasons stocks have remained as high as they have recently, and the S&P 500 is close to its best level in nearly eight weeks.
The yield on the 10-year Treasury, which helps set rates for mortgages and other loans crucial for the economy, rose to 3.49 per cent from 3.45 per cent late on Wednesday. The two-year yield, which tends to more closely track expectations for Fed actions on interest rates, rose to 4.19 per cent from 4.13 per cent.
On the earnings front, reports from some big tech-oriented companies helped build optimism a day after worries flared following forecasts from Microsoft widely seen as discouraging.
Tesla jumped 8.2 per cent after the electric-vehicle maker reported stronger profit for its latest quarter than analysts expected. Seagate Technology rose 9.1 per cent after it reported stronger revenue and earnings than expected.
Steelmaker Nucor was also among the top-performing stocks in the S&P 500, rising 6.1 per cent after beating Wall Street's profit and revenue forecasts.
Chevron rose 3.1 per cent after it raised its dividend and approved a program to buy back up to $US75 billion ($106 billion) of its stock. Both moves put cash directly in the pockets of shareholders, which caught criticism from Washington. White House spokesman Abdullah Hasan suggested oil companies instead "use their record profits to increase supply."
On the losing end of Wall Street was Sherwin Williams. It fell 7.9 per cent after reporting weaker revenue for its latest quarter than expected. It also gave a forecast for profit this upcoming year that fell well short of analysts' expectations, as a weakened housing industry weighs on demand for paint.
IBM tumbled 5.3 per cent despite reporting profit and revenue that met Wall Street's expectations. Analysts pointed to some below-forecast numbers related to how much cash it's generating.
Southwest Airlines fell 5.2 per cent after it said it lost more money than expected during its latest quarter, which was marred by more than 16,700 flight cancellations last month. It also said it expects to turn in a loss for the first three months of 2023.
AP
The Market Recap newsletter is a wrap of the day's trading. Get it each weekday afternoon.
Source: Thanks smh.com