Canadian mining giant has no plans to spark Newcrest bidding war
Canadian gold mining giant Barrick Gold has indicated it is unlikely to challenge a $24 billion takeover offer for top Australian gold miner Newcrest, reducing the chance of a bidding war over the company.
Barrick Gold had been widely considered a possible rival suitor for ASX-listed Newcrest after the world's largest gold producer, Newmont Corporation, launched a surprise bid over the weekend to buy all Newcrest's shares at a 22 per cent premium.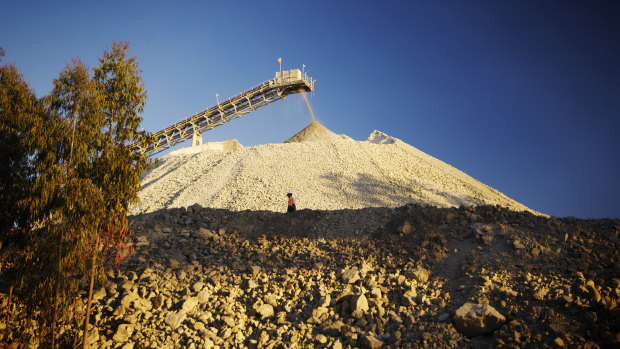 "We can think of several examples of heated bidding wars for gold companies," analysts at investment bank Citi said. "The obvious counter-bidder would be Barrick."
However, Barrick chief executive Mark Bristow has since declared the company does not intend to table a counter bid. Speaking at a mining conference in Cape Town, Bristow said such a deal "doesn't make sense right now".
"There is a difference between value merger acquisitions and getting bigger for the sake of getting bigger," he told Bloomberg.
Shares in Newcrest have climbed more than 10 per cent since the company told investors on Monday that it was assessing Newmont's all-scrip takeover offer, which is worth about $27 a share and implies a market value of $24.5 billion.
However, analysts and investors have raised questions about whether the $27-a-share bid is high enough for Newcrest.
Morningstar analyst Jon Mills said the offer price was about 13 per cent below his Newcrest valuation of $31 a share.
Citi's analysts said they did not think the offer adequately valued Newcrest's growth options such as Canada's Red Chris project and Wafi-Golpu in Papua New Guinea, as well as its considerable exposure to copper, a metal that will be increasingly needed to build renewable energy and electric vehicles.
"We think either the offer gets bumped or Newcrest continues on its capex-intensive but rewarding growth path alone," they said.
Institutional shareholder Allan Gray, which owns about 8 per cent of Newcrest, suggested the miner's stock price was presently undervalued, partly due to management uncertainty amid the board's ongoing search for a permanent chief executive to replace Sandeep Biswas, who resigned last year.
"Newcrest is not a well-liked company – it currently has a caretaker CEO, and it's been mining through a low-grade area at [PNG's] Lihir mine," Allan Gray chief investment officer Simon Mawhinney said.
"But they have some great assets and amazing growth projects … it is one of the companies you need to be more patient about."
Based in Denver, Colorado, Newmont has mining operations across the globe spanning gold, copper, silver, zinc and lead. It has two major Australian gold mines – Boddington in Western Australia and Tanami in the Northern Territory.
Melbourne-based Newcrest owns gold and copper mines in New South Wales, WA, PNG and Canada, and holds equity interests in gold assets in Ecuador.
If Newmont's $24 billion bid for Newcrest succeeds, it would mark the biggest takeover in the history of the gold mining industry.
Tom Palmer, the Australian-born president of Newmont, has pitched the proposal as a compelling opportunity for the companies' respective workers, shareholders and communities to share in the benefits of putting together two leading global businesses. On Monday, he welcomed the Newcrest board's decision to consider the offer.
"The proposed transaction would join industry-leading portfolios of assets and projects to create long-term value across the combined global business," Palmer said.
"We believe a combination of Newmont and Newcrest presents a powerful value proposition."
The Business Briefing newsletter delivers major stories, exclusive coverage and expert opinion. Sign up to get it every weekday morning.
Source: Thanks smh.com