Call for clarity on $57b oil and gas ocean clean-up bill
Lurking beyond stellar revenue from war-boosted energy prices, Australia's offshore oil and gas producers have an outstanding $57 billion-plus decommissioning bill that until recently investors cared little about.
Companies need to tell their shareholders more about the costs and risks of the work ahead, according to a report by the Australasian Centre for Corporate Responsibility, a climate-focused investor activist group.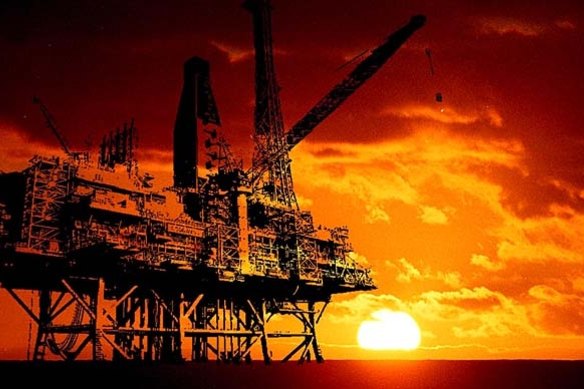 Australasian Centre for Corporate Responsibility analyst Alex Hillman said international experience showed decommissioning work often costs much more than originally estimated.
"The uncertainty and the cost associated with these activities, which have huge impacts on the balance sheet, just don't seem to be resolved yet," Hillman said.
Woodside, Australia's largest oil and gas company, reaped almost $24 billion from its sales in 2022 and Santos took in $11 billion.
Stuart Smith, chief executive of offshore regulator NOPSEMA, said that when he joined the regulator eight years ago, the industry had a strategy of continually delaying clean-up expenses that had been effective.
"That's no longer the case, they can no longer kick the can down the road," he said.
The $US40.5 billion ($57 billion) cost estimate to clean up Australian waters from a federal government-backed study does not include the vast plants that process offshore gas for export, thousands of onshore wells, or overseas assets owned by Australian companies.
The enormous liability is now nearer, clearer and harder to avoid.
In 2019, then resources minister Matt Canavan instructed NOPSEMA to more strictly enforce the existing requirement for companies to remove all equipment from the ocean in a reasonable time after production ended, unless they could show that an alternative led to a better environmental outcome.
The Coalition government also legislated for more stringent financial checks on companies entering the industry and "trailing liabilities" that made previous owners liable as a last resort.
'The uncertainty and the cost associated with these activities which have huge impacts on the balance sheet, just don't seem to be resolved yet.'

Alex Hillman, Australasian Centre for Corporate Responsibility.
The change in fortune for the industry would likely have happened eventually but was accelerated by the failure of a small inexperienced one-man company that owned a decrepit oil production vessel in the Timor Sea.
Northern Oil and Gas Australia bought the Northern Endeavour from Woodside for a token amount in 2016 and three years later went into liquidation leaving the federal government with a bill that could top $1 billion to seal the wells on the ocean floor and remove all equipment and the vessel.
Smith said the industry had assumed if a small company failed, the big players would step in to fix the problem to avoid damage to the industry's reputation, but that did not happen.
"They found it very difficult to get agreement across the whole industry," he said late last year.
Smith understands the problem was that companies were willing to pitch in with a financial contribution but could not agree which of their number would take the official responsibility to complete the work, including liability if anything went wrong.
Now the industry must pay a production levy to cover all costs associated with the Northern Endeavour.
Under the new regime, it is unlikely Woodside and its partner could have sold the Northern Endeavour to Northern Oil and Gas Australia, but if they had, the clean-up cost would have rested with them, not the federal government.
Hillman welcomed recent directions from NOPSEMA for oil and gas fields to be cleared within five years of the last production.
"They've realised that trusting industry isn't an acceptable strategy and they've actually started to have to do their job," he said, but he now wants companies – and their auditors – to ensure shareholders are given the full picture of the liabilities.
The Northern Endeavour decommissioning bill that may top $1 billion was recognised as a $US99 million ($139 million) liability in Northern Oil and Gas Australia's audited 2018 accounts.
Corporate regulator ASIC's investigation of Woodside's practice of assuming it would be allowed to leave a lot of equipment on the seabed when estimating its decommissioning costs led to an extra $239 million liability in its 2021 accounts to partially address its concerns.
An ASIC spokeswoman said the investigation was closed, but that did not prevent further enquiries of Woodside if it received new information.
Oil and gas companies could delay decommissioning if platforms or wells are reused, and carbon storage appears a favoured option.
Woodside is investigating carbon storage at its depleted Angel field in Western Australia, ExxonMobil wants to use the Bream A platform off Victoria's Gippsland coast and Santos is pursuing two options: the soon-to-be-shut-down Bayu Undan field in Timor-Leste waters north of Darwin, and the Reindeer field off the WA coast.
The offshore regulator has not approved the reuse of any offshore structures or wells for another purpose such as carbon storage and has no applications before it, a spokesman said.
A Woodside spokeswoman said it does not comment on financial details before they are released to the market to fulfil its disclosure obligations.
Woodside and Santos will release their 2022 annual reports and any update to decommissioning liabilities in late February. Whether Woodside's increased provision for the assets it bought from BHP exceeds the $US3.9 billion ($5.5 billion) estimated by the miner will be closely watched.
The Business Briefing newsletter delivers major stories, exclusive coverage and expert opinion. Sign up to get it every weekday morning.
Source: Thanks smh.com