ASX declines as investors weigh further rate hikes
Weaker mining stocks weighed on the Australian sharemarket during the early trading hours on Wednesday as investors started to price in at least one more interest rate hike in April.
The S&P/ASX 200 dipped by as much as 0.9 per cent throughout the morning, and was trading 0.7 per cent lower at 7,310 just after midday.
The mining and energy sector was the biggest decliner, with Woodside shares losing 7.5 per cent to $34.79, while market heavyweight BHP declined by 0.5 per cent to $47.71.
Biotech stocks fared better, with CSL up 0.3 per cent at $297.73, while pathology tester Sonic Healthcare rose 1.3 per cent to $33.40. The communications sector was also in the green, with Telstra gaining 0.5 per cent to $4.12 just after midday.
The market spent the morning digesting comments from Reserve Bank governor Philip Lowe at the Australian Financial Review's business summit before the start of trading. Lowe said the central bank is closer to pausing interest rate rises, but that it would be guided each month by economic reports such as employment and retail spending data.
"If they suggest that we need to keep going, then we will do that. So we've got a completely open mind about what happens at the next board meeting," he said.
Lowe did acknowledge that the post-pandemic spending rebound had now slowed, and that the RBA was expecting ongoing pressures on household spending in the face of the cost-of-living crunch. The bank wants inflation to return to 3 per cent by 2025, he said.
CBA Economics said its base case scenario still sees one more interest rate hike in April, taking the cash rate to 3.85 per cent.
Citi analysts are also tipping one further rate hike in April, though analyst Josh Williamson noted there was a possibility of additional increases beyond this.
"We expect the RBA to keep the optionality of further interest rate increases in the policy language in the April policy statement should high inflation remain for longer than expected," he said.
US stocks closed lower overnight after Federal Reserve chairman Jerome Powell flagged the need for further rate hikes, saying recent data meant "the ultimate level of interest rates is likely to be higher than previously anticipated." He also said in his testimony to a US Senate committee that the Fed is ready to increase the pace of its hikes again if needed.
That would be a sharp turnaround after it had just slowed its pace of increases to 0.25 percentage points last month from earlier hikes of 0.50 and 0.75 points.
"If the totality of the data were to indicate that faster tightening is warranted, we would be prepared to increase the pace of rate hikes," Powell said. "Restoring price stability will likely require that we maintain a restrictive stance of monetary policy for some time."
After treading water just before Powell's testimony, stocks fell immediately afterward.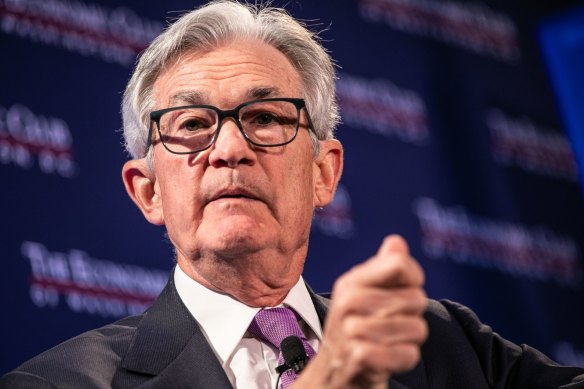 "This is the market coming back to realistic expectations," said Megan Horneman, chief investment officer at Verdence Capital Advisors. "I think it's going to continue to wash out some of the excesses in the market."
Wall Street had already begun convincing itself that higher rates than earlier thought were on the way and that the Fed may even possibly go back to larger rate increases following last month's data reports.
Since getting last month's blowout jobs report and other surprisingly strong data, Wall Street largely abandoned hopes that percolated early this year for a possible cut to interest rates later in 2023. It also upped its forecast for how high the Fed will ultimately take rates before pausing.
That's been most clear in the bond market, where the yield on the 10-year Treasury topped 4 per cent last week and hit its highest level since November. It helps set rates for mortgages and other important loans.
On Tuesday, it again approached 4 per cent after Powell's comments before falling back to 3.97 per cent from 3.96 per cent late Monday.
More market fireworks may arrive later this week and into next as the Fed gets more data points that will help shape its decision-making ahead of its next meeting on interest rates, starting with the US government's monthly jobs report on Friday.
with AP
Source: Thanks smh.com