'Extremely strong': CBA and Westpac bosses say local banks resilient
The bosses of the Commonwealth Bank and Westpac say the local industry can withstand the recent turmoil on overseas banking markets, but they caution that funding markets are on edge and rising interest rates remain a key risk.
After a crisis of confidence in offshore banking markets in the past fortnight, Commonwealth Bank's Matt Comyn and Westpac's Peter King on Tuesday sought to highlight the big's four banks' large capital buffers, strong holdings of liquid assets, and solid funding position.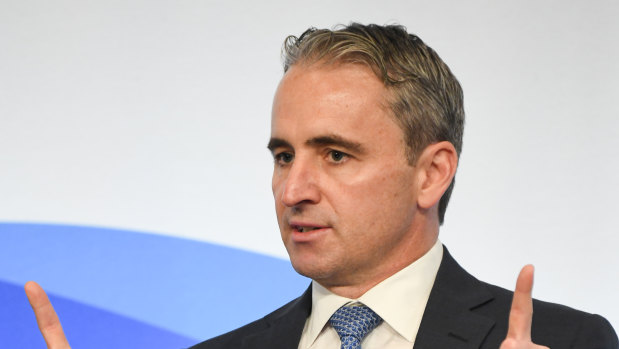 Australian Prudential Regulation Authority (APRA) chairman John Lonsdale also emphasised the industry's resilience, as the watchdog's latest stress tests found local banks could handle a severe recession while keeping their capital intact.
APRA's stress test analysed how banks handled a hypothetical recession in which unemployment more than doubled to 11 per cent and house prices plunged 43 per cent, sparking downgrades in the credit ratings of the federal government and the major banks.
Under the scenario, APRA also assumed overseas funding markets temporarily closed, and the Australian dollar fell sharply.
Lonsdale emphasised this was not APRA's forecast, but said the exercise found Australia's 10 largest banks made heavy losses on loans, but kept their capital above minimum requirements in these scenarios, even as bank profits plunged. The exercise also found deposits remained safe.
This month's shock collapse of Silicon Valley Bank following a run on its deposits, and the forced rescue of Credit Suisse after it also started bleeding deposits, has put the spotlight on banks' liquidity: having enough cash or cash equivalent to pay depositors.
Speaking at The Australian Financial Review's banking summit in Sydney, King said Westpac had about $180 billion in liquidity, compared with $45 billion in 2008 when the global financial happened.
Analysts have said one direct impact on Australian banks from the recent tumult could be higher costs of wholesale borrowing, but King said domestic banks were not under pressure to quickly raise wholesale money.
"Wholesale markets are a little bit fraught at the moment but because we're all well advanced on our funding programs for this year we can sit it out," King said. "It's going to feel strange for me to say this, but things are working pretty well domestically for us."
'It's going to feel strange for me to say this, but things are working pretty well domestically for us.'

Westpac boss Peter King
Comyn also noted the increase in funding costs, saying funding spreads were about 20 to 50 basis points wider. But he also highlighted the strength of the local sector, saying the big four banks were all in the top five best-capitalised banks in the world.
"I think the Australian banking system, and credit to the policy frameworks as well, [is] in an extremely strong position, I would say uniquely, globally," Comyn said.
While Comyn and King emphasised the banking sector's resilience in the face of recent market jitters, they also reiterated the banks were preparing for higher levels of customer stress as a result of higher interest rates.
Westpac is expecting one more rate rise from the RBA, and King said the banking giant was looking for customers who might need financial help to cope with higher rates. He said customers with high levels of debt relative to income were at higher risk, and the bank expected more delinquencies among these borrowers.
"The part of the portfolio we're watching very closely is high debt-to-income – so they're the people that have borrowed, probably at their maximum capacities. If things haven't played out as they expected, they might need help."
CBA also expects one more interest rate rise, subject to Wednesday's figures on inflation. Comyn said CBA was more wary towards industries including construction, commercial property and aged care. He said the bank did not expect a "rapid deterioration" in the economy, but more households would come under pressure over the year as interest rate rises flowed through.
"Everything that we can see at the moment, we think it's entirely manageable, there will be some pockets of difficulty and stress, but absolutely we're very focused on our long-term goals," Comyn said.
The Business Briefing newsletter delivers major stories, exclusive coverage and expert opinion. Sign up to get it every weekday morning.
Source: Thanks smh.com