Flight to quality office demand gains traction as values wobble
Robust demand for premium office space reflects the 'flight to quality' trend, with the relatively tightly held market displaying no signs of weakening despite slowing global economic growth that is having an impact on underlying valuations.
Cementing the bifurcation trend in the office market, investors and tenants are abandoning the lower-graded properties across the Sydney and Melbourne city markets, leaving some precincts outside the core, close to empty.
Leading landlords said while values are expected to decline, there is still a desire by companies to lease offices with a preference for high-end sites that offer amenities to entice workers back to the city for longer periods of time.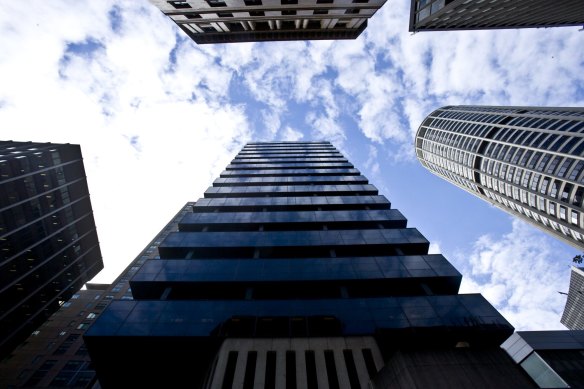 As yet, there has not been a sale of a large office block to test the valuations. The largest property on the market in Sydney is 60 Margaret Street and Met Centre, being sold by Mirvac and US private equity house Blackstone, with a price tag of about $900 million.
In new reports from Savills and Knight Frank, there is a clear message that as underlying values tumble, this push to own and or occupy a premium tower is here to stay.
According to The 2023 'Spotlight: Flight to Quality Report', there is growing strength within Sydney's premium office market, with a three-year cumulative increase in net absorption, or the increase in occupancy, totalling around 12.3 per cent of premium office stock.
"Continued robust demand for premium office space reflects the ongoing 'flight to quality' trend, with the relatively tightly held market displaying no signs of weakening despite slowing global economic growth, high inflation, rising interest rates and a shift in working patterns catalysed by the pandemic," Chris Naughtin, national director, capital markets – research at Savills Australia, said.
While the report revealed the continuation of some established commercial office market trends, a new growing demand divergence between asset locations in Sydney's CBD is defying the market conventions of the last 30 years.
"Office assets within Sydney CBD's Midtown, Southern and Western precincts are experiencing declining net take-up, with office stock in each of these precincts displaying negative net absorption in the three years to 2022." the Savills report said.
Savills' state director of head of leasing NSW, Tom Mott added that tenants are also favouring sites that are fitted out with desks and screens and other facilities, for the client.
"Across the Sydney CBD, there are no fewer than 27 whole floor fit-outs underway, representing 33,516 square metres of total net lettable space, which is unprecedented," Mott said.
In Melbourne, which is powering ahead as the country's largest office market, the flight to quality trend is more pronounced, Knight Franks head of research and consulting Victoria Tony McGough said.
He said, in the agency's latest Melbourne and Sydney CBD Office Market Reports, the Melbourne premium and A-grade markets remained resilient as the overall leasing market weakened with the uncertainty in global markets and the slowing economy.
"Demand for A-grade stock has been positive since COVID lockdowns finished in clear evidence of tenants trading up," McGough said.
"The bifurcation of the market between premium and A-grade and B, C and D-grade is also clearly illustrated in the vacancy rate, which rose overall to 13.8 per cent in the second half of 2022, but this was concentrated in the secondary market."
Knight Frank head of leasing Victoria Hamish Sutherland said it was expected demand would remain positive, if moderate, in the next five years "as the economy initially slows before returning to average growth".
The Business Briefing newsletter delivers major stories, exclusive coverage and expert opinion. Sign up to get it every weekday morning.
Source: Thanks smh.com