Westpac under pressure to curb bonuses after backlash
Westpac's next chairman will face investor pressure to rethink senior executive pay at the embattled bank, after a shareholder backlash reignited calls for the board to cut or claw back bonuses.
Following Thursday's marathon annual meeting, where more than a third of shareholders opposed the remuneration report, a key proxy adviser and the superannuation giant HESTA on Friday highlighted concerns with the bank's executive pay arrangements.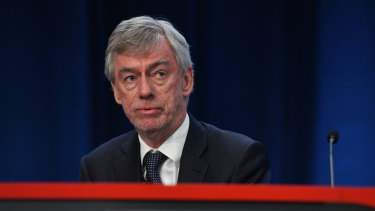 The comments underline the frustration of some investors over remuneration, which comes as the bank is also on the hunt for a new chairman, who will be desperate to avoid getting a third "strike" in a year's time. Current chairman Lindsay Maxsted has said he will step down in by mid-2020 following a money-laundering scandal that also sparked the resignation of former chief executive Brian Hartzer last month.
Head of research at proxy firm Institutional Shareholder Services (ISS), Vas Kolesnikoff, said Westpac's hefty protest vote on executive pay should prompt the board to look at cutting or potentially clawing back bonuses.
He contrasted its decision to pay bonuses — which have been frozen pending a review — with National Australia Bank's decision to pay no short-term incentives to top executives. NAB and ANZ Bank are expected to avoid second strikes at their annual meetings next week.
"NAB had zeroes for everybody this year and re-based their prior year bonuses, so I think Westpac should be considering how it fits into the market," Mr Kolesnikoff said.
Westpac this week became the first big four bank to cop a second "strike," which refers to a vote of more than 25 per cent against a remuneration report.
In a meeting dominated by allegations Westpac breached money-laundering laws 23 million times, there was also a 41 per cent protest vote against director Peter Marriott, though investors overwhelmingly rejected a motion to spill the entire board.
The bank has frozen short-term bonuses as it vows to get to the bottom of the scandal and who is accountable for the failings, but some say this is not enough.
The $53 billion superannuation fund HESTA, which voted against the remuneration report and Mr Marriott's re-election, signalled it opposed bonuses being delayed, instead of scrapped.
"Given the erosion of shareholder value that's occurred as result of these issues, we think it is inappropriate that short-term bonuses are simply delayed rather than withdrawn," HESTA's chief executive, Debby Blakey, said.
Although big investors including AustralianSuper supported the remuneration report and Mr Marriott, the meeting results illustrate the shareholder anger that is likely to face the next chairman of Westpac.
Many investors want the board to show there has been accountability for the AUSTRAC crisis, which will be heavily influenced by an investigation into how the bank managed to breach anti-money laundering laws 23 million times. It will announce the three people who will lead this investigation next week.
Alongside HESTA, First Super was another fund that voted against the election of Mr Marriott, who had support from some powerful investors because of his deep banking experience.
Chief executive Bill Watson said: "If his banking experience was that valuable, why did they get themselves into this predicament in the first place? There will have to be a series of steps the bank takes to demonstrate it has the right culture."
Source: Thanks smh.com